Homemade Baby Food And Toddler Food Recipes, Including This Chewy Apple Breakfast Bar Recipe.
Your child will love the sweet apple taste -- and you will love the healthy goodness of our Apple Breakfast Bars. These moist, fruit-filled bars make a nice change from muffins.
Daina Kalnins,, Msc, RD & Joanne Saab, RD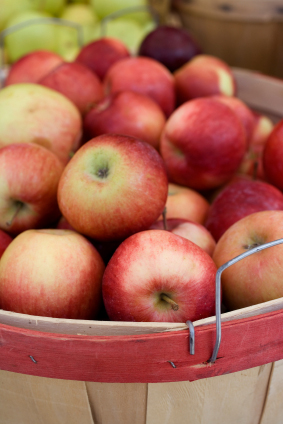 Apple Breakfast Bars
from Better Baby Food
Ingredients:
3 cups finely chopped peeled apples
 divided (about 2 large apples)
1 package (14 oz/400 g) date snacking 
 cake mix (see tip)
1?4 cup wheat germ 
1?4 cup natural wheat bran 
1 tsp ground cinnamon 
1 cup 2% milk 
2 tbsp packed brown sugar 
Directions:
1. In a medium bowl, stir together 2 cups apples, cake mix, wheat germ, bran and cinnamon; stir in milk just until blended. Spread into prepared cake pan -- 9-inch  square cake pan, greased.
2. Top with remaining apples; sprinkle with sugar.
3. Bake in preheated oven (350°F (180°C)  for 45 minutes or until a tester inserted in the center comes out clean. Move to wire rack to cool. Cut into bars. Makes 12 bars
Kitchen Tip
If you can't find date snacking cake, use another variety. Make sure the package size is the same and that it does not contain nuts.
Nutritional analysis (per bar)
Energy – 182kcal
Protein – 3g
Carbohydrate – 34g
Fat – 4g
Fiber 1g
Calcium – 77mg
Iron – 1mg
Sodium – 229 mg
Recipes reprinted with permission from Better Baby Food, 2/E, by Daina Kalnins and Joanne Saab, Robert Rose Inc. 2008.




For more homemade baby food recipes: