Homemade Baby Food Recipes, Including Mixed Purees, How To Make Baby Food, And Baby Food Recipes Including Fruits, Vegetables And Meats.
Are you looking for healthy and easy homemade baby food recipes? It's exciting when babies start to eat real food, albeit in the pureed form. And it's even more exciting when the food becomes lightly seasoned meals that are reminiscent of big-kids meals. These great baby food puree combos will get your baby even closer to eating real table food.
Sarah Caron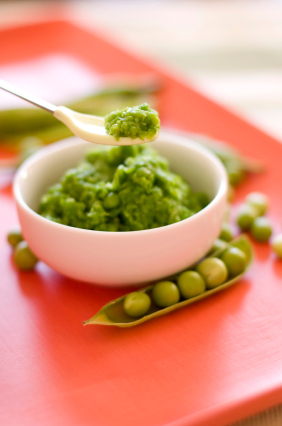 Every mom wants to give their baby the best start possible. Homemade baby food allows you to customize foods to introduce baby to more combinations and ones involving flavors they enjoy. Furthermore, it gives you the tools to feed baby the freshest, healthiest, most nutrient-rich foods available.
Once your baby has mastered a variety of first food purees, it's time to expand their palate with mixed baby food purees. Start with some ultra-simple mixes of flavors that will introduce your child to flavor combinations, and then work your way up to more involved baby meals.
Mixed baby food: Veggies & fruits
Once baby has eaten a variety of single-flavor foods, it's time to start mixing it all up. But don't worry, this doesn't have to be complicated.
If you have a freezer full of cubes of single-flavor baby purees, simply pluck 2-3 flavors out at a time and allow them to defrost together. For instance, a cube of apple puree and a cube of squash puree can combine to create a great breakfast or lunch meal.
Going forward, creating single flavor purees can be a way to achieve maximum versatility of your baby's mixed purees.
Here are some flavors that work well together:
Apple and Squash
Apple and Sweet Potato
Banana and Pear
Banana and Apple
Carrot and Peas
Peach and Apple
Pear and Apple
Sweet Potato and Squash
Also, another way to begin offering combined foods is to mix them with baby cereal. Apples, bananas, pears and peaches all go well with baby cereals.
Adding proteins
At some point, you may want to introduce some proteins and carbs to baby's menu to bring the baby food closer to real food. Fully cooked lean meats including beef, chicken and turkey can be added into purees to begin introducing protein to meals. Additionally, some lentils, potatoes and rice can be added as well. For these mixes, simple cook all the ingredients until full done and then puree together.
Here are some ideas for protein, vegetable and fruit mixes baby will love:
Beef and carrots
Beef, potatoes and peas
Chicken, apples and squash
Chicken, brown rice, peas and carrots
Chicken, green beans and potatoes
Chicken and sweet potatoes
Lentils, carrots, squash and rice
Lentils and beef
Turkey and squash
Turkey, potatoes and peas
Experimenting with flavor
One your baby has tried many flavors from fruits and vegetables to proteins, it's okay to start seasoning their food very lightly. Herbs, salt and pepper and herbs -- all in small amounts -- are great to add to baby food. Just be sure to keep the hot flavors at bay.
When you are experimenting with seasonings and flavor, this also allows you to start making baby meals with a combination  of flavors and tastes. Here are a few homemade baby food recipes to get you started:
Baby's First Lentil Soup
2 cups water
3/4 cup red lentils (these will break down the best for baby)
1/4 cup diced carrots
1/4 cup peas
salt and pepper
Stir together the water, lentils carrots and peas in a large saucepan. Sprinkle a sparing amount of salt and pepper on the mixture Bring to a boil and cook until all of the vegetables and lentils are fully cooked. Transfer to a blender or food processor and puree until desired smoothness.
Apple, Sweet Potato and Squash Puree
3/4 cup diced apples, cooked to tender
1/2 cup diced sweet potatoes, cooked to tender
1/2 cup diced squash, cooked to tender
pinch cinnamon and salt
Combined the apples, sweet potatoes, squash and a pinch of cinnamon and a pinch of salt. Blend to desired consistency.
Baby's First Chicken Pie
1/2 cup cooked, diced chicken
1/2 cup green beans, cooked to tender
1/4 cup diced carrots, cooked to tender
1/4 cup potatoes, cooked to tender
pinch salt, pepper, oregano
Water
Combine all of the ingredients in a blender or food processor and process to desired consistency.
Share with us your favorite homemade baby food recipe on our SheKnows P&B message boards!
For more homemade baby food recipes: