Are you looking for the best baby toys for your little one? Birthday, holidays, and special occasions – it seems there's always a reason to buy a new gift for baby or toddler. Storefronts and advertisers keep parents up to date on the latest and greatest toys available for kids, making it difficult to say no. But how do you know which toys are best for their developmental stage, as well as those that will keep them interested and entertained?
Tracy McGinnis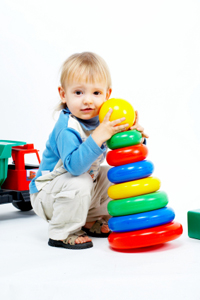 Dr. Jennifer Fogo from the School of Occupational Therapy at the University of Indianapolis says keeping it simple is the best choice when it comes to stimulating your child's imagination and aiding in development.
Back to basics
"Especially for preschoolers, the best toys are familiar and inexpensive options, such as building blocks and modeling clay, which stimulate creativity and cultivate fine motor skills, said Fogo."
Consider plush toys for toddlers who are developing socially and emotionally. Stuffed animals can be a great learning tool when it comes to comforting your child and providing emotional support.
"Videos, electronic games and motorized riding toys can promote passive behavior and hinder children from exploring and understanding the world around them," explained Fogo. "Stationary play saucers are all right in moderation, but infants need time on their tummies in order to learn how to crawl and walk."
Books are appropriate choices for any age, and Fogo explains provide a focal point for interaction. "Early on, adults can point out and identify illustrations. Later on the child can turn the pages and talk about the story."
Keep it simple
Avoid toys that are too complicated for very small children who are learning the basics. 
"A 6- to 12-month-old child may be good at reaching and grasping objects, but most children don't master their release skills -- the ability to deliberately place an object in a specific location until later."
Sometimes toys that are specifically marketed for younger children may not always be the best option. For example, Fogo says "Oversized crayons and toys that are marketed to younger kids may be easier for little hands to grasp, but they are more difficult to control and therefore won't aid in the child's development of fine motor skills."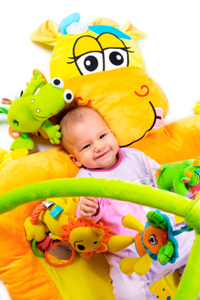 Age appropriate baby & toddler toys
Newborn: Since your little one is lying down most of the time you'll want to provide them with toys that appeal to their senses. Consider mobiles for eyesight, textured toys for touch, mats that provide various activities (and much-needed tummy time!), and rattles and squeeze toys for hearing.
Babies Age 3-6 months: Baby's ages 3-6 months are becoming more and more mobile. Consider adding toys like teething rings and soft books for them to explore with their hands and mouths.
Babies age 6-9 months: When your baby starts sitting up, you may want to start considering toys that will help them develop their mobility like crawling and walking.
Toddlers: Toys that require climbing, pushing, pulling and riding for toddlers to help improve their motor skills. Balls to throw and kick, and tunnels to crawl through are all good choices.
These toys will grow with your child throughout their pre-school and kindergarten years helping to improve their hand-eye coordination. Puzzles, shape sorters, construction toys, pounding and stacking toys are also good choices.
"More options are available once kids reach the ages of 3 to 5," said Fogo. "This is the prime period to nurture imagination and creativity, so construction sets and art supplies are good choices.
Try before you buy
If you're still not sure what types of toys to bring into your house, consider talking with other moms with children similar in age to see what works well.
Take some time before shopping to research toy companies and review the various educational products they offer. Read reviews posted on their websites and keep up with new products as well as recalls that may be given.
For more on baby toys: