Tips For Women Who Want To Breastfeed With Breast Implants Or Breast Augmentation, Including Breast Lift.
With the increased number of women undergoing plastic surgery, many wonder if it is safe to breastfeed with breast implants. Pregnant celebrities Kourtney Kardashian and Kendra Wilkinson recently brought this topic to light when they both stated their desire to breastfeed with their implants. Find out if you will be able to breastfeed with breast implants and if it is safe to you and your baby to do so.
Mary Fetzer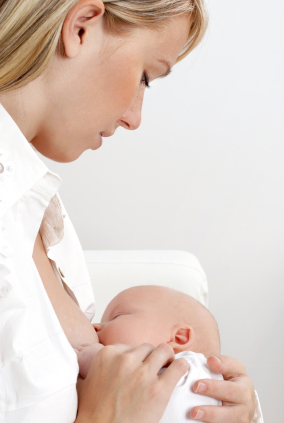 Marianne had breast implants when she breastfed her second child but not her first. "Breastfeeding was as natural as when I fed my older daughter without them," says Marianne. "My milk was plentiful. I had no problems. I didn't notice any difference except the size of my breasts."
The good news
Breast implants generally do not interfere with breastfeeding. "If a woman was able to breastfeed prior to having implants, then there is no reason why she should expect to have any difficulty after the implants are placed," advises Matthew Schulman, MD, a board certified plastic surgeon in New York City.
"There are no scientific studies to show that breast implants have any effect on breastfeeding," reassures Craig A. Vander Kolk, MD, Professor of Plastic Surgery at Johns Hopkins.
Schulman agrees. "Implants change the appearance of the breasts but have no impact on the functioning of breasts."
Placement of the implant is important
According to Irene Zoppi, a clinical education specialist at Medela, "many mothers with breast implants are able to breastfeed with little difficulty, but the surgical procedure has the potential to damage some of the milk-making tissue, milk ducts and nerves in the breast."
Schulman adds that this potential is more likely in extensive surgery, such as a breast lift with implants. With standard implants, "the internal architecture of the breast tissue and the milk ducts are not disrupted during surgery," says Schulman.
"When an implant is placed behind the muscle, there is very little surgical trauma to breast tissue," says Scott C. Sattler MD FACS. "Less breast tissue trauma results in less breast scar tissue. Less breast scar tissue means more healthy breast tissue available for milk production."
When she was 19 years old, Tamara got breast implants that took her from an A to a D cup. Tamara expressed a desire to breastfeed in the future, so her doctor placed the implants behind – not over – the muscle. Ten years later, Tamara had a son and breastfed him for 15 months.
Placement of the incision is important
"Location of the incision is a major factor in lactation," says Vicki Vertich, a lactation consultant in Florida.
The most popular approach for breast augmentation is peri-areolar, a procedure in which the incision is made at the pigmented area around the nipple. Aesthetically, this method provides excellent results, but it can decrease a woman's ability to breastfeed.
"Placing the incision around the areola risks damaging the milk ducts and injuring the nerves that are an important stimulant for breastfeeding," advises Louis DeLuca, MD. "To optimize the preservation of breastfeeding ability, the incision should be placed in the fold under the breast."
Breast implants won't harm the baby
"Breast implants pose no danger to a breastfeeding mother or infant," says Schulman, "even in the rare event of implant rupture."
"There have been no studies to suggest that there is any danger to the baby, even with silicone implants," says Dr. York Yates, a board certified plastic surgeon in Salt Lake City. What Yates own research has shown, however, is that some women – up to 20 percent – worry so much about their implants harming the baby that it affects their desire to breastfeed.
"It's important for women to know that breastfeeding after augmentation with either silicone or saline implants is very safe and poses no risk to the unborn child," adds DeLuca.
Breastfeeding will not harm the implants
Included in the 20 percent who've lost their desire, are women who are concerned that breastfeeding may change the appearance of their implants.
Tamara found that the opposite, in fact, was true. "Many women suffer from sagging breasts after breastfeeding," she comments, "but mine are still up where they were pre-pregnancy!"
The bottom line
"Some women will have difficulty breast feeding, regardless of the presence of implants," says Schulman. "Women should understand this so that they do not mistakenly feel that the breast implants are responsible and then carry an intense feeling of guilt about their decision to have breast augmentation."
For more breastfeeding tips: