Postpartum Pampering Tips To Help Avoid New-Mommy Burn Out, Including New Mom Gift Ideas And How To Manage Stress And Exhaustion.
After nine months of expectant attention, now, it's all about the baby! While new parenthood means taking care of your baby's needs 24/7, it's crucial to remember to take care of you. Here are some tried and true ways to pamper yourself as you transition to motherhood.
Ami Burns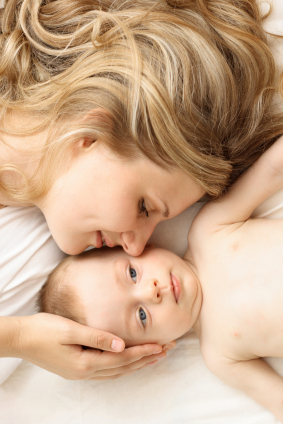 One can never truly prepare for what life with a newborn will be like, but there are some basics that everyone can do ahead of time to help create a smooth transition to life with baby.
Postpartum preparation
Many moms create a postpartum "to do" list of day-to-day responsibilities like laundry, grocery shopping, dog walking and cooking. When people call and ask if you need anything, you can ask them to choose an item from your list. Take advantage of these offers to help before they go away.
Ann Grauer, LCCE, FACCE, CD(DONA), PCD(DONA) is Past President of DONA International (www.dona.org) the leading training and certification program for doulas. She recommends educating yourself about newborns during pregnancy. "Learn what babies are really like, how they communicate with you," says Grauer. "It's huge! Knowing what newborns are and are not capable of makes the unfamiliar beginning fascinating and gives you more patience."
Gifts that are pampering yet practical
Along with the onesies, teddy bears and diaper gear your baby will likely receive, there are gifts that are great for you and your partner.
Kevin and Christy B., parents in Pittsburgh, PA, received gift certificates for meals. "We picked up ready to heat meals in individual proportions - I think it covered 36 individual meals for mom & Dad. Since going out was tough - especially with the baby AND two little ones, it was nice to have a 'nice' meal ready to go"
Anna T., a mother of four in Chicago, IL was given the gift of a postpartum doula, a trained professional who helps "mother the mother" by assisting with feeding, baby care and light household duties. "Money for a postpartum doula was priceless. It was such a help to have someone take care of us and to help us out after the baby was born," says Trusty.
Family and friends can offer a night of babysitting. There are usually plenty of onesies and diaper gear to go around, and sometimes a night out to reconnect is just what new parents need.
Grauer is a big believer in spa time for new parents. "A gift certificate for a massage for tired new parents gives them permission to take care of themselves. Also, if a papa gives mom a certificate for a manicure and pedicure she will feel like a whole new woman!"
Finding "me" time – and not feeling guilty about it
As a childbirth educator and doula, I often tell my clients how breathing and relaxation during labor is great preparation for life with a newborn. Granted, you won't be having contractions but sometimes taking a deep breath, making a cup of tea or even watching a so-bad-it's-good reality tv show can help you relax and unwind.
As a new mom, your ultimate responsibility is to attend to your baby's needs, but taking time – no matter how small – to nurture yourself and your partner will only make you a happier parent. As my mother in law was fond of saying, "If Mama ain't happy, nobody's happy."
Give yourself time to adjust to parenthood
According to Grauer, "This is a journey into parenthood and no one ever can know exactly what joys and challenges they will face. Remember, though, that this beautiful baby is happy to have you as a parent. And that's the greatest gift of all. Enjoy this fleeting moment!"
For more on adjusting to parenthood: