Homemade Pureed Baby Food Recipes, Including Mash Foods And Vegetables Baby Food Recipes And Fruit Baby Food Recipes.
When baby is ready to start eating solid foods, many moms want to give them the best start by making homemade baby food . This simple and cost-saving move can be a great experience for you and for baby. Here is how to get started making your own baby food and recipes for fruit and vegetable baby food purees.
Sarah Caron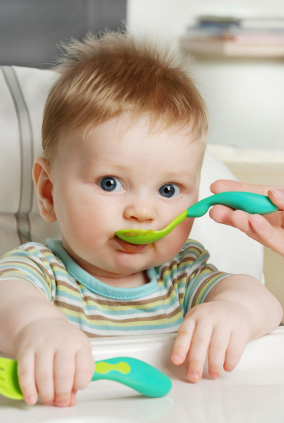 Making your own baby food has shed it's crunchy connotations and is becoming and more and more popular way of feeding babies -- for both working moms and stay-at-home moms. The rewards of doing it are clear: it's healthy, it's economical and it's simple. It might sounds like a time-consuming task, but it's not. Many mothers say that it can be done in less than an hour every week or two.
Not sure if your baby is ready to start eating solids? Find out here the signs of food readiness.
Mom Maureen Smithe Brusznicki says that since she loves to cook, it made sense for her to cook her daughter's food as well. It offered her the bonus of being much easier on the environment, as well as being a big money saver. "Making homemade organic baby food saves a LOT of money. Typical organic jarred baby food costs 70-85 cents/jar. I can make homemade organic foods for about 15-20 cents/jar. In six months, I would spend $1,377 on pre-made stuff -- versus just $324 for homemade. I can think of a lot of fun ways to spend the $1,053 I am saving," says Maureen, who blogs at Homemade Mothering(www.homemademothering.com).
Getting started
Ready to get cooking? Making simple homemade baby food purees is easy. First thing you will want to do is make sure that you have the gear you need. Don't be fooled by the variety of gadgets for making baby food that are marketed to moms, you may already have all you need to get cooking. In fact, you really only need three things:
a steamer insert and a pot with that lid that it fits in
a blender, mini food prep or food processor
a mesh strainer
If you plan to freeze some of the food, you will want some sturdy containers or ice cube trays and freezer bags.
Pureed baby food recipes
Right about now, you are probably searching for the list of the "right" foods to start baby on and clear directions to make them. The truth is that the first foods are ridiculously simple to make - and there are a variety of "right" foods.
Some first foods actually don't even need to be cooked before you prepare them. These include nutrient-rich avocados, ripe pears and bananas. Simply peel, remove any seeds or pits (obviously that doesn't apply to bananas) and mash or puree to a smooth consistency. Pureed pears can be stored in the freezer, but avocados and bananas should be done on an as-needed basis, as they don't store well once processed.
Other fruits and vegetables do need to be cooked before being pureed though. Sweet potatoes, apples, squash and peas are also good first foods that are easily make into purees.
Sweet potato puree
1 sweet potato
water (as needed)
Preheat the oven to 400 degrees. Prick the sweet potato 3-4 times with a fork and then wrap the unpeeled sweet potato in aluminum foil. Place in the hot oven and cook for 35-50 minutes, until soft throughout. Let the potato to cool, then slice it open and scoop out the flesh into the bowl of a food processor. Pulse until smooth, adding water as needed to achieve desired consistency.
Note: Although baby doesn't eat the skins, you could use then to make some tasty potato skins with a sprinkle of cheese, cinnamon and paprika for a yummy movie-night snack.
Apple puree
1 apple
water
Peel and core the apple. Place the chunks in a saucepan and cover with water. Boil until tender. Drain, reserving cooking liquid. Transfer the apples to a food processor or blender and blend until smooth. If desired, thin the puree with a little of the cooking water (discard whatever you don't use).
Squash puree
1 winter squash, such as acorn or butternut
water
Preheat the oven to 400 degrees.
Using a large, sharp knife, cut the squash in half. Scoop out and discard seeds and sinew from the cavity. Place the halves cut side down on a baking sheet and bake for 35-45 minutes until the flesh is tender. Let cool. Scoop out the flesh into a food processor or a blender. Process until smooth. If necessary, thin the puree with a bit of water.
Pea puree
1 cup peas (frozen or fresh)
water
Place the peas in a pot of water and boil until tender. Drain, reserving some of the cooking water. Place the peas in a food processor or blender and process until smooth. Thin with a bit of the reserved water to desired consistency. Pour the puree through a fine mesh strainer to ensure an ultra-smooth puree.
Storing homemade baby food
Purees will keep in the refrigerator for 2-3 days. For longer term storage, freeze the purees in an ice cube tray (each cube is about one ounce) and then place the frozen cubes into a freezer bag. You can also freeze purees in freezer-safe containers.
For more on homemade baby food: