Ensure Your Baby's Sleeping Safe
Sudden Infant Death Syndrome (SIDS) is a scary topic for any expectant parent or parent with an infant. But, what is scariest for most is the fact that the cause of SIDS cannot be determined. Instead of watching over your child every second she's in sweet slumberland, find out some of the things you can do to lower the risk of SIDS by reading on.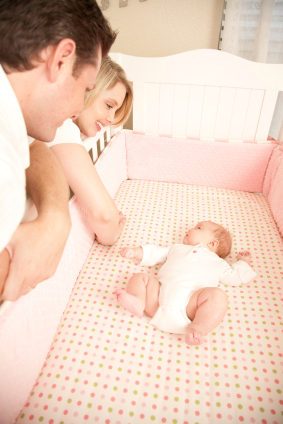 According to the American Academy of Pediatrics (AAP), SIDS is defined as, "The sudden death of an infant under 1 year of age, which remains unexplained after a thorough case investigation, including performance of a complete autopsy, examination of the death scene, and review of the clinical history."
So how do you fight against the leading cause of death in infants in the United States? Before you give in to the urge to set up shifts between the two of you to watch over her as she sleeps (new parents need all the sleep they can get with an infant in the house!), here are some tips to help reduce the risk that your child will fall into the wrong side of the statistics.
Back to sleep
Over the years the rules have changed, and pediatricians and the AAP agree that putting a baby on her back to sleep is the safest position for your little princess. Make sure grandparents, babysitters and other care givers are adhering to this life-saving rule! Save tummy time for when she's awake, which will help strengthen her neck muscles and reduce the risk of SIDS even further.
Nothing in the crib except baby
Do not put stuffed animals, pillows, quilts, or soft bumpers in the crib when your sweet pea is sleeping. Using a sleep sack to keep your baby cozy is best, but if you must use a blanket, make sure it's tucked into the well-fitted crib mattress and does not extend up past her chest.
Say no to smoking
Infants exposed to cigarette smoke have a higher risk of SIDS. Do not smoke during pregnancy, or expose your baby to second hand smoke once she's joined the outside world.
Sleeping surface
Let your little one lullaby in a crib, bassinette, or portable play yard made for babies. Putting her to sleep on a sofa, adult bed, chair, or any other non-infant sleep surface can be bad news to your wee little one.
Keep cool
To avoid letting the newest addition to your family overheat by dressing her the same way you are dressed for the night. Keeping the temperature at a level that is comfortable for an adult is a good guide to keeping your baby cool.
Parental Aid
For peace of mind, some parents have turned to devices such as the Snuza Halo to try and reduce the risk of SIDS in their infants. "The Snuza is tiny yet extremely effective and poses no danger to the infant whatsoever," explains Charlotte Wenham, a Registered Nurse and Business Manager for Pneo, makers of the Snuza Halo. The small device is tucked into the diaper area, monitoring movement and stimulating your sleeping sweetheart with vibrations should movement go undetected in a measured period of time. Check with your pediatrician to see if this option is right for your baby.
Use a fan
An easy way to keep your baby from overheating is to use a fan in the nursery to help circulate and cool the air. In fact, a study from the Archives of Pediatrics reports that infants who slept in a nursery using a fan to ventiliate the air had a whopping 72% decreased risk of SIDS!
If you don't have an overhead fan in baby's nursery, you may want to consider having one installed (Hunter fans has a great selection for nurseries and kid's rooms, such as an airplane "Fantasy flyer" fan or a pink "Dreamland" fan) or simply buy a portable fan. Remember, the fan does not need to blast air at baby -- a gentle breeze to circulate the air is plenty.
Share these tips
Remember to share these guidelines with anyone who will help care for your tot to give her the best chance in her first year of life. From grandparents to babysitters to anyone who will be sweetly rocking your baby to sleep, spreading the word is the best way to reduce the risk of SIDS for your child.
Although the above tips may not stop parents from monitoring their bundle of joy's breathing with a mirror as they slumber, knowing you're taking the steps to reduce your little one's risk of SIDS will hopefully give you the good night's rest you deserve. Or, as much sleep as your hungry infant will let you get!
For more info on preventing SIDS: