Ideas For Keeping Your Baby And Toddler Entertained This Summer.
There is just something about summertime that seems to invoke the kid in us all. Instead of letting that feeling pass you by, take advantage of it and engage in some creative playtime with your children this season. Here we offer some fun and simple ideas to keep your kids (and you!) entertained well through the dog days of summer.
Molly Cerreta Smith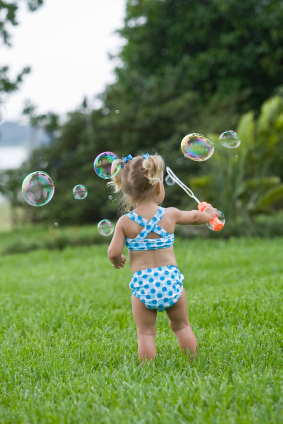 It doesn't take much to entertain a curious baby. Check out these fun ideas to keep your baby and toddler happy throughout the summer.
Baby
Pop! Pop! Pop!
Babies love bubbles – whether splashing with them in the tub or simply watching them float on a warm summer breeze. But did you know there have been some serious technological advances in bubble blowers? If you don't feel like blowing a lot of hot air, try the Gazillion Bubble Machine by Funrise, which cranks out 4,000 bubbles a minute! While this toy is intended for children three and up, you infant will be fascinated simply watching all the bubbles fill the air.
Fun feelers
Introduce your infant to the variety of textures and feels that are lying around your house. Fill a basket with items such as soft feathers, pipe cleaners, squishy balls or balls that have rubber "feelers", and squares of material such as corduroy, silk, flannel. Allow your baby to touch and experience each item, while supervising, of course. Or simply touch your baby's skin with each fabric and watch how he reacts.
Sing a song
You don't have to enroll in an expensive class to give your baby a unique musical experience. With a little creativity, you can do it all from the comfort of your own home. After all, you are your baby's best teacher and the person they most want to be with at this stage. Enjoy it; it goes quick! Get a few CDs filled with music for baby or simply sing songs to your baby and make up or incorporate fun hand movements (think Itsy Bitsy Spider, but don't limit yourself to old standbys!).
Move and groove
Help your baby learn to move and groove by gently stretching and bending her limbs. Lay her down on her back, then have her grasp your fingers and slowly lead her arms above her head, then down by her legs and across her belly (you can make up a song for the movement pattern as well). Next, stretch out her legs, and then tuck them gently up by her belly. Never push or force a movement, and watch for cues to make sure she's enjoying herself. If she's at the point where she can stand with assistance by grasping your hands, help her balance and "dance" to lively music.
Rollie pollie
Collect several soft balls and help baby learn to roll them back and forth to you. Try out various sizes and textures to see which one(s) your baby gravitates toward. Exercise balls, tennis balls, or a soft Toss the Taggie Ball by Taggies, made specifically for newborns and up, are all great to try.
Toddler
Splash and play
One of the best parts of summer is getting wet to cool down! This can be as easy as turning on the lawn sprinklers and letting your toddler run through the grass. However, if you want to get fancy, there are tons for great play pools available today that offer all kinds of wet and watery fun. Check out the Fisher-Price Soak 'n Splash Inflatable Animal Park, which includes a crocodile splash pool, giraffe waterfall and elephant sprinkler. Remember to always watch your kids around water!
Hula Hoop
While it may be tough for a three-year-old to coordinate swinging a Hula Hoop around his waist, there are dozens of other fun ways to enjoy this toy. If you have more than one, line them up in the backyard and have your child jump from hoop to hoop, or hold them up and encourage your toddler to crawl through each one.
Sand, man!
Sand and toddlers go together like peanut butter and jelly. Whether you are at the beach, the park or in a sandbox in your very own backyard, sand can keep toddlers entertained for hours. Stock up on some great, inexpensive plastic sand toys such as buckets, shovels, rakes, and molds — all of which are lurking around every corner in the toy store during the summer months. Allow your child to experiment with the new texture and feel of sand when you get it wet. Check out the Step 2 Sand and Water Activity Table, which has two sides – one for water and one for sand. It even has an umbrella to keep kids out of the sun. Be prepared for a mess, but don't worry too much. You can simply hose them down after they are done playing!
Sidewalk chalk
There are few things greater than good old fashioned sidewalk chalk — it's inexpensive, it's easy to clean off of clothes and skin, you have a never-ending canvas on your own sidewalk and you don't even have to feel guilty about wasting paper. Encourage your children to draw their favorite animals, practice writing the letters of the alphabet as well as numbers and play easy games such as tic-tac-toe or hop scotch.
Finger paints
Sure, finger paints are messy — but kids are washable! Strip them down to their diapers/Underoos to avoid major messes on clothes. Get some big pieces of poster board and let your kids go wild stamping their hand and feet prints all over them. If you do this project outside, you can simply hose down the patio. If you are working indoors, be sure to cover the area you don't want painted with lots of newspaper. These precious prints make wonderful keepsakes and gifts for the grandparents.
Read more on kids and playtime fun: