Pool Safety Tips For Infants And Toddlers To Prevent Drownings
Swimming and other water activities are a wonderful way for families to ward off the summer heat. Even babies can join in the fun and explore the pleasures of water. But all children, especially those under age 4, must be kept safe from water accidents. Find out how to keep your child safe around water and prevent drownings.
Mary Fetzer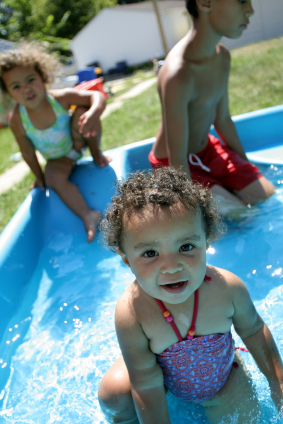 Nearly 20 years ago, Margie Yansura's family joined friends for a block party at a neighbor's house. Margie's 3-year-old daughter, Lisa, donned inflatable arm bands and enjoyed the pool with several other young children.
When it was time to eat, the swimmers exited the pool. Little Lisa was seated with a plate of food about five feet from the pool. By the time Margie returned with her plate three minutes later, Lisa was face down in the pool.
Margie's husband jumped in and brought Lisa to the edge of the pool – her eyes open and fixed and her body turning blue, cold and stiff. Margie and an unknown guest immediately performed CPR on Lisa, and soon she was spitting up water and crying. Fortunately, Lisa fully recovered, but Margie's family learned some tough lessons about water safety that day. Even surrounded by dozens of responsible adults, Lisa still ended up in peril.
The frightening facts
"Drowning accidents can occur anywhere, even in your own backyard," warns Dr. Cindy Bunin Nurik, Founder of Mommy and Me. Drowning rates are the highest among children ages 1 through 2 years, making drowning the leading cause of unintentional injury and death for this age group. According to Nurik, the statistics are grim:
300 children under the age of five drown in a residential swimming pool every year
75% children were between the ages of 1 and 3 years
65% of pool-related injuries occurred in a family-owned pool; 33% occur in the pool of friend or relative
75% of child drownings were caused by a lapse in adult supervision (even though 90% of the parents said they were closely supervising the child)
On the bright side, all swimming accidents are preventable, and it is possible to enjoy the water with your young child.
Adult supervision
The Association of Pool & Spa Professionals (APSP) acknowledges that any body of water poses a risk to young children. "Parents should know that adult supervision is the primary way to prevent accidents," reports APSP.
Teaching a child to swim is not enough. While the National Institutes of Health (NIH) report that swimming lessons can protect children from drowning, the American Academy of Pediatrics (AAP) recommends parents wait until a child is at least 4 years old to begin formal swimming lessons. Before that, children simply are not developmentally ready.
There simply is no substitution for supervision. An adult who can swim and knows CPR should supervise children at all times.  For children under 4 years, the AAP promotes touch supervision – parents and caregivers should supervise children playing in or around water by keeping them within arms' reach at all times.
"Always know where children are," advises the National Drowning Prevention Alliance (NDPA). "Never leave a child unattended in or near water." And if a child is missing, always check the pool first.
"Drowning is a silent and sudden event," says Meri-K Appy of the Home Safety Council, a national nonprofit organization dedicated to helping families stay safe at home. "Since drowning victims often do not make any noise once in distress, constant supervision is critical."
Layers of protection
NDPA promotes a water safety strategy called "layers of protection."The primary and most important layer is adult supervision, which should be ever-present regardless of what other safety precautions are in place.
Beyond supervision, additional layers provide added safety. Physical barriers such as door locks, fences and pool safety covers, thwart access to the water. Alerts such as pool and gate alarms warn adults if a physical barrier has been crossed. Finally, in the event that all physical and alert layers fail, supervising adults should know proper rescue techniques and CPR.
You can still have fun!
With proper safety techniques in place, take the time to introduce your baby to the water. She's still too young for swimming lessons, but -- as early as 6 months of age – she can join aquatic programs designed for infants and toddlers. These classes will help her become accustomed to the water.
The NIH advises parents to find a program that allows an adult to swim with the child and to select one that doesn't require the baby to put her head under water. Aquatic programs help prepare young children for water activities yet to come.
Go ahead, be safe and enjoy water activities with your child! 
Read more on summer safety: