A Guide For Parents On Preparing Their Car Seat And Home For A Premature Baby Or Preemie.
When it's time for your premature baby to be discharged from the hospital, you'll want to be as prepared as possible. Jennifer Toerpe, RNC MSN NNP/APN CNMI, Clinical Nurse Manager of the Neonatal Intensive Care Unit (NICU) at Rush-Copley Medical Center, shares tips for taking care of your preemie – and yourself – when she comes home. From car seat adjustments to preparing your home, find out what to expect when bringing home your premature baby.
Ami Burns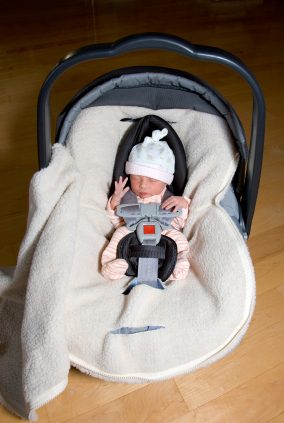 NICU graduates needs at discharge are dependent upon multiple factors, explains Toerpe. "The majority of babies who graduate from a NICU need only the 'Tender Loving Care' of their loving family to grow and thrive."
Prepare for baby's "graduation day"
Parents can prepare for their baby to come home from the NICU by becoming more and more involved as their baby's discharge day nears.  Parents, nurses, physicians, and therapists form a dynamic team throughout the baby's stay.  Each member of the care team helps teach parents -- the most important members of the team! -- those caregiving skills unique to their baby's needs.
Some NICUs allow rooming in -- or overnight stays -- of the parents in the hospital for a few nights prior to discharge.  This way the parents become independent at caring for their infant --practicing the new caregiving techniques and using the equipment that they have learned how to use while still having a registered nurse a few steps away.  Parents find this support comforting, especially when they think of questions that they might not have had the chance to identify until they are truly caring for the baby by themselves.
Some babies may need home monitoring when they are not in the immediate presence of their parents or while sleeping.  A monitor checks on heart rate and breathing. Very few babies may need frequent weight checks at the pediatrician/family practice physician's office or with a lactation nurse.  At times babies with feeding or breathing problems may require tube feedings or extra oxygen.  "The NICU staff will coordinate equipment delivery, training, and follow up services with the family well in advance of the baby's day to go home," Toerpe says.
A safe ride home
Choosing a car seat – and having it inspected and properly installed – is crucial for the safety of all newborns. Toerpe shares these tips:
1. Select a car safety seat that fits your baby. Seats that have the shortest distance from the seat back to the crotch strap will help keep your baby from slouching. Seats that have the shortest distance from the harness slots to the seat bottom will fit better by keeping the harness over your baby's shoulders and holding your baby in the seat.       
2. Do not use a car safety seat with a shield or tray. In a crash or sudden stop, your small baby's neck or head could hit the shield or tray.
3. Place rolled receiving blankets on both sides of your baby to center him or her in the car safety seat. Place a rolled diaper or washcloth between your child's diaper area and the crotch strap to keep your baby from slipping down. Do not place these behind or under the baby.
4. Some babies who were born prematurely have breathing problems when they sit semi-reclined in a car safety seat. The hospital staff observes and monitors your baby in a car safety seat before going home.
Car Bed
Your baby may need to use a car bed if he has any of the following while in a car safety seat:
A decrease in oxygen levels
Slow heart rate
Apnea (breathing stops for a moment or two)
Car beds that meet Federal Motor Vehicle Safety Standards allow babies to travel while lying down. There are many reasons why a baby may need to travel in a car bed, such as problems breathing when sitting upright or semi-reclined, decreased muscle control, bones that break very easily, recent surgery on the spine or wearing a cast.
At this time there are a number of car beds available. They are designed for babies, not larger children. Although the beds vary in design, all of them must be installed lengthwise with the baby's head toward the center of the car.
Welcome home
Toerpe explains that by the time preemies are discharged, they should be able to regulate their body temperature the same as a full term baby. She recommends setting the thermostat to around 67-68 degrees. "This temperature is much cooler than the neonatal unit, where the room temperature needs to be higher for the babies who aren't sufficiently mature to maintain their own body temperature. So don't worry if your home feels cooler than the hospital. Air filters can be changed monthly and make sure your heating duct system has been vacuumed."
Call the NICU with questions
Be sure to talk to your baby's healthcare provider in the NICU about specific discharge instructions for your baby and his particular needs. Many of these will include things to look for in all newborns such as fever.
Take care of yourself, too
Be sure to find time to rest when your baby rests and take advantage of assistance offered by friends or family,  like cooking, doing baby's laundry or walking the dog. If you're experience signs of postpartum mood disorders, call your doctor or midwife. As the saying goes, if mom isn't happy, no one is happy. Find support if needed – a happy, healthy mom equals a happy, healthy baby.
Read more on premature babies: