Tips On Preparing Your Marriage For Life With Baby
Pregnant moms typically spend the last few weeks of their pregnancy nesting, packing for their hospital stay and cooking make-ahead meals to stash in the freezer. Your house is prepared for the baby, but is your marriage? Find out how a new baby will impact your marriage and how to prepare for the impending changes to your relationship.
Karen M. Lynch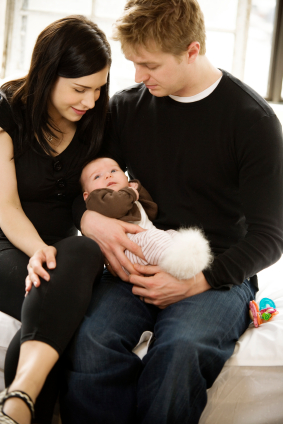 "It's very difficult to go from two to three," says Dr. Shari Lusskin, Director of Reproductive Psychiatry at NYU Langone Medical Center. "Even two bright, successful hardworking parents can completely lose their bearings when they have to care for a new baby."
It's not that couples can't make the necessary transition over time. It's just that they don't have any prior practice. "We grow up in a society where we're not taught how to care for children and babies and it is very stressful until we know what we are doing," says Dr. Lusskin. That stress takes a toll on your relationship.
So how do you keep the love flowing as you make that transition from woman to mother, man to father, and couple to parents?
Analyze your mental health risk
Mood or anxiety disorders make the transition into parenthood much more challenging for both partners. "To minimize the effect on your marriage, know your risk profile and act to minimize those risks. If you have a prior history of anxiety or depression, do not assume that pregnancy will be protective," says Dr. Lusskin. If you're taking medication (or think you should), talk to your medical professional about how to safely treat your mental health.
Build a psychosocial support network
The most obvious place to turn for postpartum help is your extended family. But many couples are isolated from their families, living in a different city, far from familial support. That's where friends and childcare workers can fill in. You need to line people up ahead of time so they'll be ready to take some of the burden off of you when the time comes. "Don't sit around and wait for people to offer help," says Lusskin. "You have to ask for it, and there's absolutely nothing wrong with that."
Get enough hours of sleep
"Sleep deprivation is the root of all evils," says Dr. Lusskin. For some couples, getting enough sleep may mean taking turns handling the overnight feedings. Others might benefit from having someone else take care of the baby at night. If you're planning to nurse, someone can bring the baby to you or handle the task of diapering and or burping for you. If it is possible, one (or both) of you should nap when the baby naps. Make a solid sleep plan ahead of time so you don't feel you need permission once the baby comes.
 
Make couple time a priority
It's important that the fondness and affection you feel for each other doesn't dwindle after the baby is born. It's also important that the lines of communication remain open between you, especially during this transition. "Make time for each other right from the get go. Get a babysitter lined up. Build in time as new parents where you will go out on dates. Learn how to trust other people with your child because you can't do it all alone," says Dr. Lusskin.
Consider lining up professional help
Marriage and family therapists regularly practice short-term therapy for clients. It can't hurt to seek out a professional's help prior to giving birth if you are worried about how you'll make the transition as a couple. The American Association for Marriage and Family Therapy has a great service on their website to help you locate a therapist near you. Check it out at www.therapistlocator.net.
Read more on your marriage after baby: