What To Pack When Traveling With Your Baby
Summer is right around the corner, and for many that means vacation time! Traveling can be a challenge, and it becomes even more complex when you add a baby to the mix. If you're planning to take your new little one away with you this year, check out our packing checklist to help you get organized as you plan your trip.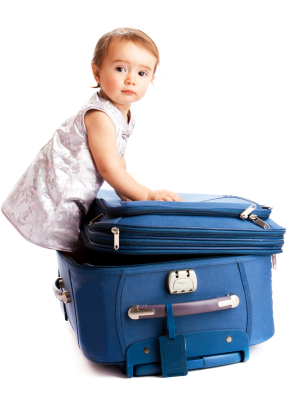 Our packing list will ensure nothing gets left behind as you plan a trip with baby.
Diaper bag essentials
No matter where you go, no matter how long you plan to stay, be sure to take a well-stocked diaper bag:
Diapers – You can't control traffic jams or flight delays, but you can make sure you have more than enough diapers on hand. Pack more than you think you'll need, and put the rest in your suitcase.
Wipes – Disposable wipes are convenient not just for diapering but also for wiping baby's hands and face. Use them also to disinfect surfaces such as restaurant high chairs. Pack some hand sanitizer for yourself to use after diaper changes.
Changing pad – Carrying your own changing pads is an easy way to ensure you'll always have a clean place on which to change your baby. Use them on restroom changing tables, hotel beds and other surfaces with which baby comes into contact.
Plastic bags – Bring along some plastic grocery bags. Use them for dirty diapers and other trash. They're perfect for soiled baby clothes as well.
Sunscreen -- Keep sunscreen handy. Your baby can get sunburned through car windows or on short stops at sunny rest areas.
Medication -- If your baby takes medicine, keep it in your purse or diaper bag so it's readily available and less likely to be lost with a suitcase.
Cooler essentials
Whether your baby is nursing or eating solids (or both!), you'll want an ample food supply in your handy cooler bag:
Food – Again, prepare for possible travel delays by packing a sufficient amount of water, formula, juice, baby food – whatever it is your baby eats at home. (Bring some snacks for yourself, too!)
Drink containers – Pack at least one separate bottle or cup for each type of beverage (water, milk) your baby drinks.
Bibs – Pack some disposable bibs to prevent soiling too many clothes.
Wipes – Keep a small packet of wipes in your cooler, too. When baby is hungry, you won't have to root around through the diaper bag to find them.
Suitcase essentials
Babies need enough stuff to warrant a suitcase of their own. Here are just some of the must-haves:
Clothes – Seems obvious enough, but don't underestimate the number of costume changes your little one may make over the course of your trip. There are food spills, diaper leaks, places too cool and others too warm. The more comfortable your baby's attire, the less fussy he or she will be. And don't forget the pajamas!
Diapers – Even though you have a bunch in the diaper bag, you'll need many more. Pack some swim diapers, too, if you're planning on wading into the water with your little one.
Blankets – Our mothers and grandmothers understood the value of the receiving blanket. They're small, soft and lightweight and serve a multitude of purposes – from sleeping cover to wind and sun protection. Nursing mothers find them helpful when nursing in public, and receiving blankets are ideal for rest stop breaks when you just want to spread out in the grass for awhile.
Toiletries – When you pack your own grooming tools, add baby's, too – shampoo, baby wash, comb, and toothbrush. Hotel soaps – and even those at Grandpa's house – may be too strong for baby's delicate body.
Toys – Be sure to bring along some items to entertain your little one. If there's a favorite security item, keep it in your purse or diaper bag. All other items – books, toys and music – can be packed away until you reach your destination.
First aid supplies – Be prepared. Pack diaper cream (or nursery jelly or whatever you use at home for sore bottoms), sunscreen, a thermometer, nasal aspirator and other basic first-aid items you may need, such as band-aids or anti-itch ointment. Carry emergency information as well, including your baby's immunization history and pediatrician's contact info.
Miscellaneous essentials
Packing these items will make your trip more baby friendly:
Camera – Your family will make memories on baby's first vacation, so have a camera or camcorder handy to record it all.
Safety items – Baby proof your lodgings with safety items, especially if your little traveler is mobile. A monitor, some outlet covers, and even doorknob covers or cabinet locks won't take up much room in the suitcase but will provide a great deal of peace of mind.
Nightlight – Placing a nightlight near baby's sleeping quarters will help both of you deal with unfamiliar surroundings during nighttime awakenings.
Portable crib – Modern pack-and-play cribs are ideal for traveling, especially if there are no baby accommodations at your destination. If you're staying in a hotel room with a crib, at least bring your baby's own crib sheets.
Baby transportation – If you plan to do a lot of walking, a baby carrier will enable you to keep your hands free while still carrying your little one close. Strollers can often be rented, but you may want to pack a folding stroller just in case.
Finally, pack some patience. Family vacations are quite the same as the trips you may have taken alone or as a couple. You might not get as much of the vacation relaxation factor as you used to, but seeing your destination through your new baby's eyes is well worth the sacrifice.
Read more on traveling with baby: