Tips For An Eco-Friendly Pregnancy For The Health Of Baby And The Environment
With Earth Day right around the corner and the green, eco-conscious movement in full swing, many moms and moms-to-be are looking for ways to live a more eco-friendly life. Here are 15 ways to green your pregnancy for a healthier baby and a healthier environment.
Sarah Caron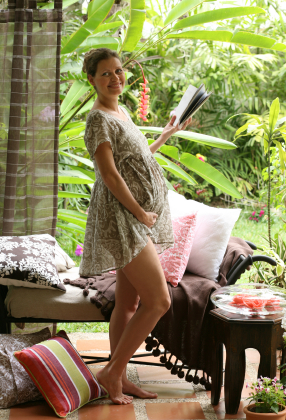 Forget the excesses of the past and the advice of experienced moms to buy, buy, buy. We are in the age of greenness and a great place to start greening your life is making your pregnancy as Earth-friendly as possible. Making smart eco-conscious choices will pay off in spades for both your world and your wallet. How do you get started? Here are 15 ways to green your pregnancy.
1. Hit the library
With volumes and volumes of books available for pregnancy and parenting, it's tempting to stock up on all the newest editions. Instead of spending money on books that you won't need much beyond pregnancy, head to your local library and check out all the volumes you want. Not only is it a greener option, but it will save you a lot of green too.
"We tried to be green by saving paper and not buying baby books.  All the standards like What To Expect When You're Expecting are available online and the rest,  like The Birth Partner, were available at the local library," said Hawaii mom Deanna Niles McConnell.
2. Borrow those clothes
Pregnancy clothes are only worn for a short time, so why buy new maternity clothes when your friends with kids might just have some awesome duds to share? Forget spending the big bucks and borrow, borrow, borrow!
"I borrowed maternity clothes from a friend for my first pregnancy. This time around, I won't be able to do that (her sister is pregnant as well) but I have planned how I will make do using what I already have. Thank goodness it's a summer pregnancy," says Bekah, who pens motherhood-moment.blogspot.com.
Real more on RealMomsGuide.com: Pregnancy fashion basics: Affordable maternity style
3. Switch to green cleaning products
Keeping the house clean is a must with babies around. Get a head-start on safer cleaning by switching to Earth-friendly cleaners. Available in stores everywhere, green cleaners from brands like Seventh Generation and Method are accessible and budget friendly.
4.Simplify your beauty routine
While outer beauty and a youthful appearance are important for many women's self-esteem, you don't need 15 moisterizers, 10 mascaras and dozens of unnatural shampoos. Shop green beauty brands like Burt's Bees and Tom's of Maine and narrow your purchases down to just the most important (no excess!).
5. Be a giver
Instead of tossing out the things you no longer want or need, make a habit of giving them away. Whether it's to your family, friends or to a charity, everything from magazines to your old maternity clothes can find new life in someone else's home.
6. Go gently used
Face it. Babies need a lot of stuff. But that doesn't mean that you need to buy every single item new. There is a treasure trove of nearly new, gently used baby items available from consignment shops, on websites like Craigslist and via list-servs like Freecycle. Go tag saling, check eBay and to save money and the environment.
"We found out at 20 weeks that we are having twin girls. We let everyone know that we wanted as much as possible to be hand-me-downs or used, and people have really responded.  We will not have to buy a single new piece of furniture, including a swing, crib or rocker,"  says Jessica Russell of shoptumbleweed.com."We have found that people are getting into helping us find enough stuff for 2 babies used.  We feel better about all the stuff we are bringing into our homes."
7. Drive green
That cute little coupe won't be too convenient for chauffeuring your new addition. Instead of trading up for a better-sized gas-guzzler, look for an Earth friendly car that gets good gas mileage and is safe. Check out www.greenercars.org for models that fit the bill.
8. Get composting
Don't let good kitchen scraps (the non-animal kind only!) go to waste. Create a compost pile using leaves, grass clippings and scraps from your kitchen. Not only will it use what might otherwise have gone to a landfill, but it will create nutrient-rich soil on the cheap that will really help with #9.
9. Grow your own
Growing herbs, vegetables and fruits is a great green way to improve your diet and make use of your property. You can control what is used to treat pests and you will know exactly where everything comes from.
10. Eat local
The Eat Local movement is going strong and with farmer's markets popping up all over, it's not hard to find places to buy locally grown food. Plus, it stimulates your local economy. Check out LocalHarvest.org to locate farms, Community Supported Agriculture programs and farmer's markets near you.
11. Go digital
You will take a lot of photos during pregnancy -- and even more once baby is born! Instead of printing every single picture, invest in a good digital hard drive and store photos digitally (it's also good to have a backup method). Print only the ones that you absolutely love, and display them proudly. You can also store photos on a memory card and display them on a digital photo frame.
12. Get on those feet
Staying healthy during pregnancy is important. Lace up your trainers and get walking to the store, post office or friend's houses whenever and wherever possible. You'll be doing something positive for the environment by not driving and it will keep your body moving and burning.
13. Use reusables
Trade those plastic bottles of water for reusable metal water bottles that you can fill and go. It's better for your body and better for the Earth. "I would carry my own portable container with food so I could always have what I wanted to eat while on the go" says Latham Thomas of tendershootswellness.com.
14. Eco-friendly registry
Forget baby registries that list scores of products that you may or may not need for baby. Instead of a traditional registry, create a wishlist on a Blogger or WordPress blog of things you'd like for baby. Include info about your preferances as well (like new instead of new, cloth diapers instead of disposibles, etc).
"I ... registered for cloth diapers (which I used) so that people would know NOT to buy disposable diapers for me. I've been at so many showers where people toss extra diapers in to their gift and, for me, I feel that cloth diapers are greener and the way to go. So, I didn't want to end up with diapers that I wouldn't use," says Felice Primeau Devine who blogs at The Little Jobber (felicepd.wordpress.com).
15. Party green
Instead of printed invitations, paper goods and lots of wasted wrapping paper, encourage whoever is planning your baby shower to go green with reusable utensils and plates, wrapping and more.
"We had a 'green' baby shower. ... We also made sure to keep it as simple as possible in terms of spending money. My fiancee did some work in exchange for the food for the shower.  All of our serving ware was compostable, and we set up recycling so nothing was wasted," says Elsie Escobar, who teaches a free online yoga class called Elsie's Yoga Class: Live and Unplugged Podcast (www.elsiesyogakula.com).
Read more on how to have a healthy, green pregnancy: