Tips On Keeping Your Baby Safe From Poisons In The Home
As parents, we know we will have to protect our children from all of the dangers they can encounter outside of the safety of our homes – strangers, bad influences, just to name a few. But there are also precautions parents need to take inside the home to keep their baby safe – particularly when it comes to poison prevention.
Tracy B. McGinnis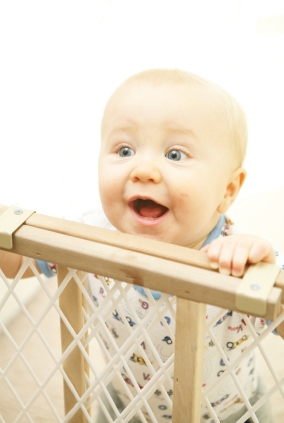 According to the Centers for Diseased Control and Prevention, approximately nine of out ten accidental poisonings happen at home.  More than half of the victims are children under the age of six, and of those, almost half occur because of the misuse of medications.
Medication Safety
The American Society of Health-System Pharmacists (ASHP) offers these tips when it comes to keeping your children safe from medications that may be found at home:
• Don't take medications in front of kids – as they try to imitate adult behavior.
• An ASHP survey found almost half of parents/caregivers have referred to medicine as "candy" in order to get their kids to take medicine. The ASHP warns against this type of behavior and advises parents never to call medicine "candy."
• Use child proof caps and keep prescription and nonprescription medications in their original containers.
• Be sure to check expiration dates on medicines and consider it expired after six months of purchase.
• Turn on the light when giving or taking medicine.
• Do not dispose of medications in open trash containers where they can be accessed by small children or pets.
• Keep vitamins out of the reach of children.
Home safety
Parents need to remember that the same products they may be using to keep their homes clean can also contain dangerous chemicals that could get their family sick. Companies such as Maid Brigade, which adopted green cleaning at all of their franchise locations, remind parents that home cleaning products are the only products not required to list all ingredients on labels, and some companies are exaggerating how "green" their products really are. 
The Home Safety Council, a national nonprofit dedicated to helping families stay safe in their homes, says that "poisoning is the second leading cause of unintentional injury related death in the home."
According to the American Association of Poison Control Centers (AAPCC), "More than 92% of the 2.4 million poison exposures reported occurred at home."  The Home Safety Council says that despite that fact, many families are not taking the right precautions to reduce their risk of poisoning.
In addition to visiting their website at www.homesafetycouncil.org, The Home Safety Council offers these tips:
• Call 1-800-222-1222 is someone takes poison and call if you have questions about poisons. Keep this number by every phone.  Call 9-1-1 if the person won't wake up, has seizures or trouble breathing.
• Carbon Monoxide (CO) is a deadly gas you can't see or smell. Have your heaters, stoves, and fireplaces serviced every year to see that they're working well. 
• Have a CO detector near bedrooms – they will alert you if you're gas level is too high. Push the "test" button so you recognize the sound it makes.
• Identify the items that are poisons in your home – look for labels that include "caution", "warning", "poison", "danger", etc, and keep these items locked and away from children.
• Keep chemicals such as gasoline, fluids, pesticides, etc., that can be found in the garage in their original containers with a closed kid and out of reach from children.  Clean up any spills as they happen.
• Never run an engine in a garage.  Use generators and barbeque grills outside only.
To help you walk through your entire house and check that your home is safe visit, check out our baby safe checklist here at PregnancyandBaby.
Read More: