Tips On Keeping Your Baby Healthy During Flu Season
There's no greater gift then welcoming a new addition to the family, but baby it's cold outside! What's a new parent to do when everyone wants to celebrate and meet your little one during flu season?
Ami Burns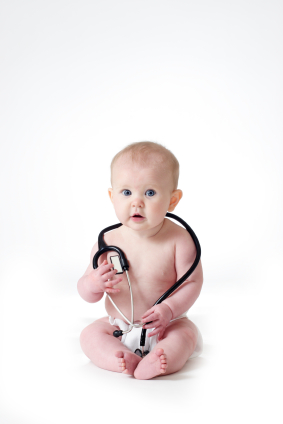 1. Protect yourself and your baby
General guidelines for keeping the flu at bay include frequent hand washing, coughing into your arm instead of your hands, and avoiding being around sick people as best you can. Babies under six months old can't get a flu shot, but everyone else should, according to Dr. Gwenn Schurgin-O'Keeffe, MD, FAAP, a spokesperson for The American Academy of Pediatrics. "Make sure all grownups and kids who are eligible for the flu shot get it. That's the number one way of protecting infants during this time of year," she says.
2. Don't be afraid to ask if someone is sick
"Parents have to be very brave and ask if anyone is sick," says Schurgin-O'Keeffe. "They need to be willing to keep the baby home or keep the baby upstairs." In addition to preventing illness, new babies don't have the temperament to be around crowds for a long period of time. "Babies don't want to be around all the hubbub," she says.
Sometimes even the best-laid plans don't exactly work out. Schurgin-O'Keeffe recalls a holiday story when she had her first child:
"My husband spent Thanksgiving watching football in the bedroom." she recalls. "But every time someone came into the room, they held the baby." So she and her husband started making some simple rules, like asking family and friends to ask if it was okay to pick up the baby. "By the time the second one came around," she explains, "we'd ask everyone to wash their hands before they held her."
3. The baby jetsetter
If you baby is under one month old, it may not be ideal to start accumulating frequent flyer miles just yet. Schurgin-O'Keeffe recommends not flying if your baby's under a month old. Not only hasn't she been immunized, all of the activity that surrounds air travel isn't ideal for a postpartum mom either.
Schurgin-O'Keeffe suggests you think about driving to your holiday gathering,  or ask family and friends who live out of town to visit you this year.
4. Shopping for gifts, not germs
While you can decide whether or not to visit someone who may be sick, you can't control germs that may be lurking around the mall. You may want to buy gifts online, but if you love hitting holiday sales, consider having someone care for your baby at hope while you shop. If you prefer taking the baby with you, be on alert. Fellow shoppers may want to admire or touch your beautiful baby. Schurgin-O'Keeffe recommends keeping baby in a stroller, covered with a light blanket to keep friendly strangers at bay.
5. Be cautious, even if it's not a White Christmas
If you live in a warm climate, you'll still want to take some precautions. Schurgin-O'Keeffe tells new parents to keep babies in air-conditioned rooms, and watch that they don't get over-heated. It's especially important to make sure your baby is eating and drinking enough and has plenty of wet diapers.
Otherwise, the same guidelines for babies in snowy, winter wonderlands apply to babies ready for the beach.
Read More: