How To Share A New Baby With The Family During The Holidays
The holiday season is a busy time of year, and even busier when you have a new baby. Grandparents and other family members want to spend time with your new bundle of joy, but sometimes this seems impossible, especially if they live in different parts of the country, or the world. Follow our tips for new parents to help you have a stress-free holiday season.
Ami Burns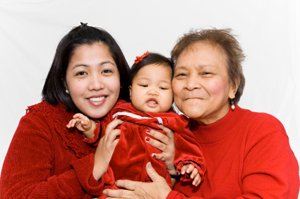 You can't please everyone all of the time, as the old saying goes. Pam Horan-Bussey, LCSW, a Licensed Clinical Social Worker with The Family Institute at Northwestern University says that while managing everyone's expectations can be stressful any time of year, the holiday season may be extra challenging.
"The expectations are heightened," explains Horan-Bussey. "Make sure you're patient with yourself and other people. You have to be ready to face them with enough calmness to manage that."
New Parent Holiday Tips
Horan-Bussey offers these tips to help new parents have a stress-free holiday season:
1. Be really clear about your expectations and priorities
"Decide what are the most important things to you about your holiday season, if it's Hanukkah, Christmas or even just the time off you're celebrating," says Horan-Bussey.
"It's a lot of pressure, especially if it's the first grandchild. You're dealing with a lot more intense expectations on the part of other family members."
2. Know your limits
"It's important to acknowledge others' expectations but that doesn't mean you have to agree with them," adds Horan-Bussey. She encourages new parents to try to meet the family's wishes to see the baby while calmly setting limits when necessary. Keep your baby's limits in mind, too, since she can't express them. "If you have a baby, she's just thinking, 'feed me,' Horan-Bussey explains. "Part of your job is to figure out and try to meet your baby's need for regularity and consistency during the holidays."
3. Communicate your intentions with the people that are close to you and people that are close to the baby
This is particularly important if the grandparents live out-of-town and you're unable to be together for the holidays. Horan-Bussey advises new parents to tell their parents they want to make sure the baby spends time with them during the holidays even if they can't travel to see them in person.
4. When family dynamics aren't particularly "joyful"
Maybe Grandma and Grandpa are divorced, or other family dynamics make the idea of everyone getting together during the holidays daunting. You may find it helpful to schedule one event for a specified amount of time, at your home or another neutral location.
"You can try to stretch a little bit and see what it might be like to go to one central place and ask people to meet you there. If there are family conflicts, you might want to have that time be very specific," says Horan-Bussey.  "Talk about how the time might be structured ahead of time – make sure we give everybody some time with the baby. We'll be there for x amount of time then we're going to leave."
Holidays 2.0
When grandparents can't be there to hold the baby, engaging in there lives via the web may be the next best thing. Emailing pictures, creating a website for your baby or video "chats" between baby and her grandparents are some ideas. This won't take the place of an in-person visit, holding the baby, Horan-Bussey explains, "It's just one small part of building an on-going relationship between baby and her grandparents."
Sharing time at the holidays, and in the future
Whether or not you'll be able to have your baby spend time with her entire family in person for the holidays, remember there are many ways to stay connected now, and as your baby grows. Although your baby is too young to understand now, it's never too early to start building a long-distance relationship, explains Horan-Bussey. "Communicate to the baby that she has a big, extended family of support."



Read More: