Thoughtful Gift Ideas Every New Mom Would Appreciate
Perhaps no one is more deserving of the perfect gift this year than a new mom. Functioning on little sleep, new moms seem to handle it all while barely taking a breather. And since many moms are responsible for the holiday shopping, you might as well get yourself something nice! If you're stumped for ideas, fear not. We've compiled a list of some of the best new products out there that are designed to make life easier for new mamas.
Molly Cerreta Smith
Karen Cahn-Adelson, owner of Moonbeams in Scottsdale, is an expert when it comes to fine products that new moms will love, and that they will love to use. She suggests the following gifts: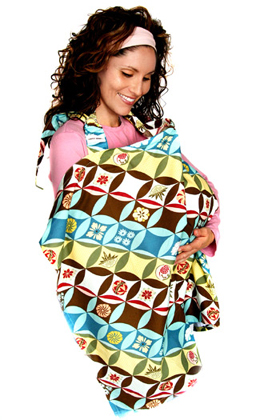 The Bebe au Lait Nursing Cover (aka the Hooter Hider)
Though many women disagree on the topic of nursing in public, the consensus seems to be that just tossing a blanket over you and your baby is not the easiest method for creating a little personal space in a public place. Enter the fashionable Bebe au Lait Nursing Cover(pictured), which incorporates a rigid neckline, allowing mom and baby to maintain eye contact and bond during public nursing. Organic versions are available as well.
Erbaviva Stretch Mark Oil and Cream
Erbaviva is a luxury organic skincare line that specializes in pure products for baby and mommy before, during and after pregnancy. The brand's stretch mark oil and cream are very soothing on itchy skin during pregnancy as your tummy stretches, and they are great for the prevention and reduction of stretch marks.
Earth Mama Angel Baby Happy Feet Herbal Foot Soak
If you're soon to be bundle of joy is wreaking havoc on your tootsies, try a relaxing foot soak to sooth those achy, swollen feet. The Happy Feet organic herbal soak combines lavender, yarrow, thyme, peppermint, rosemary, salts and pure essential oils (all organic!) to pamper your feet and ankles. Since the product is chemical-free, there is no need to worry about the product affecting your baby.
Earth Mama Angel Baby Sweet Dreams Pregnancy Sleep CD
Anyone with a growing tummy knows that as pregnancy progresses, sleeping becomes increasingly difficult. But the Sweet Dreams Pregnancy Sleep CD offers guided relaxation to help mamas-to-be sleep, while reducing anxiety and discomfort. The CD promises to help you sleep more deeply and soundly, reduce normal pregnancy anxiety, awake feeling more refreshed, and increase your energy throughout the day.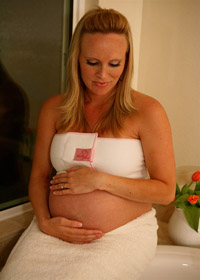 Belmama & Cherub's The Shower Hug
Nursing moms often complain of sore and engorged breasts, and taking a simple shower can turn torturous when streams of water beat down on already tender breasts. The Shower Hug (pictured) provides gentle support for full and engorged breasts, protects nipples and areolas from direct contact with soap and other chemical residues in toiletries, and shields sensitive nipples and breasts from direct contact with harsh shower pressure. Simply wrap the product around your chest and back and attach the Velcro closure. The Shower Hug is machine washable.
Earth Mama Angel Baby Booby Tubes
While breastfeeding is the most natural and beautiful thing in the world, it can also be incredibly painful! Give your body a break with Booby Tubes, a natural, safe and gel-free breast pack designed with a 100 percent organic cotton shell and filled with all-natural flax seed. It can be used warm or cold to soothe your breasts in between feedings and while weaning, and they reduce swelling and tenderness associated with engorgement.
Earth Mama Angel Baby C-Mama Healing Salve
Mothers who delivered by Cesarean often have concerns about not only their stretch marks, but also the scar left behind by the surgery. This clinically tested vegan healing salve, made with 100 percent natural ingredients, has both scar reducing and cell rejuvenating properties.
Stellar Baby's Cuddle Sleeve
This thickly padded soft material slips over your arm like a sleeve to offer every comfort for both mom and baby during sessions of soothing. Designed to support baby, the Cuddle Sleeve is designed for soothing, calming, and transitioning baby to sleep – all without putting your arm to sleep!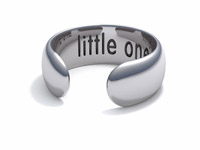 Tiny Baubles Waiting Band
Many women experiencing swelling in their feet and hands during pregnancy, so much so that some even have to put their wedding rings back in the jewelry box for awhile. In place of it (though nothing could replace it), pregnant women can wear a Waiting Band, silver open-ended rings that can be adjusted as the fingers retain water. Inside are special insignias such as one love, one live; miracle; and little one. So sweet!
Earth Mama New Mama Bottom Spray
Created as an alternative to the medicinal spray often distributed at hospitals after new moms give birth vaginally, New Mama Bottom Spray is an organic version designed to provide relief "downstairs" so you can be up and running again.
So why not spoil that new or expecting mama in your life—even if it's you. She deserves it and so do you!



Read More: