The Future Of Diapers Involves Eco-Friendly Fabrics That Are Also Easy On Parents
As a new mama, there are plenty of choices to make, and one of the biggest choices is whether you should use disposable diapers or cloth diapers. Find out all the advantages to using cloth diapers (earth friendly and earlier potty training, to name a few) as well as all the cool features on the new-wave of eco-friendly diapers.
By Jennifer Chait
Cloth diaper benefits
There are many positives when it comes to using cloth diapers over disposables. You'll save money; imagine only buying diapers once, as opposed to weekly. Your baby may potty train sooner if he's wearing cloth diapers. Many think that babies feel the uncomfortable wetness of cloth diapers and that it's motivation to use the potty.
Lastly, your choice of cloth diapers creates a healthier planet for your children. Mother Nature's Shopping List  notes that more than a billion trees are destroyed each year to make disposable diapers. Additionally, parents toss over 18 billion disposable diapers into landfills yearly.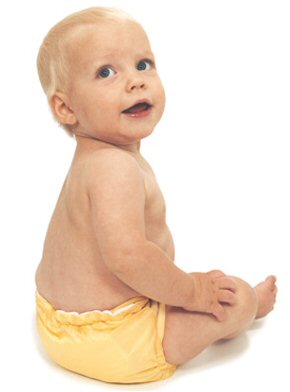 If you decide to use cloth diapers, you may be wondering what some of the alternatives to disposables are. No worries – you have plenty of great cloth diaper options.
The new wave
Today's cloth diapers are not your mama's cloth diapers. Cloth diapers today do almost everything but wash themselves. Fuzzi Bunz diapers (pictured, right) and bumGenius are great examples of the new wave of cloth diapers.
DFuzzi Bunz have cool features such as a waterproof outer layer, handy snaps for an adjustable fit and a tiny gusset lining the diaper keeps messes contained. Fuzzi Bunz and bumGenius diapers come in pocket styles that provide extra wetness protection via a removable insert that you stuff into an evelope-style opening. For economy, these diapers also come with snap down rises, effectively making them a one-size diaper that will fit your baby from 8-35 lbs. Lastly, for the fashion diva in you, Fuzzi Bunz, bumGenius and other premium cloth diaper brands come in an array of beautiful colors and fabric designs. Nothing says perky like an adorable lavender or lemon colored diaper!
A hybrid option
gDiapers are another alternative to disposables. Not quite cloth or disposable, gDiapers are an earth friendly, easy to use disposable alternative. gDiapers consist of a cotton, washable 'little g' pant (think baby undies), and a plastic-free flat diaper refill. You simply change the diaper refill component. The diaper refill is flushable and made of breathable material so your baby's skin stays dry. The gDiaper refill is eco-friendly. If you can't flush the refill you can toss it, but unlike disposable diapers, this refill will break down within 150 days.
The 'little g' pants come in adorable colors and designs as well. The negative is that you do need to buy diaper refills, which like disposables, can add up. However, they won't add to landfill trash.
Hemp and organic
If you're looking for pesticide-free, nontoxic, safer cloth diapering choices visit Better for Babies . This website provides innovative and healthy cloth diaper options in both hemp and organic cotton. Their main brand diapers, the Little Beetle ONEs  (pictured, above) are easy to use, Fair Trade, organic, and come in many lovely colors. You can also learn about super package deals, which will save you money if you want to go organic.
Traditional options
There's such a wide variety of traditional cloth diapers available; it can be overwhelming to choose. If you decide to use basic flat cloth diapers, you'll also need to think about covers. There are plastic and cloth covers available. 
A great place to start researching cloth diapers is at Green Mountain Diaper. This website is cool because you can browse many basic cloth diapers. From basic prefold cloth diapers, to tiny newborn cloth choices, to cloth diaper covers; you'll see them all. The Green Mountain Diaper website also includes handy cloth diaper FAQs, reviews, and how-to wash guides; all perfect for a new user of cloth diapers. ClothDiaper.com is another great place for learning about cloth diapers. For comprehensive user reviews of both cloth diapers and cloth diaper retailers, check out Diaper Pin.
If you decide to use prefold cloth diapers you may want to consider a diaper service. Diaper services are more costly than washing yourself, but services can save you time, and you won't need to figure out what to do with all those cloth diapers once you're done with them. When you use a diaper service the company brings you diapers and you trade off soiled diapers on a set schedule. To find a diaper service near you, visit the National Association of Diaper Services.
Read More: