The excitement of a new baby begins at the time of conception and peaks at the moment of birth. Yet only a few other things in life are more thrilling than announcing the arrival of a new baby in the family. Sharon Waldrop shows you some ways to share the joy.
Sharon Waldrop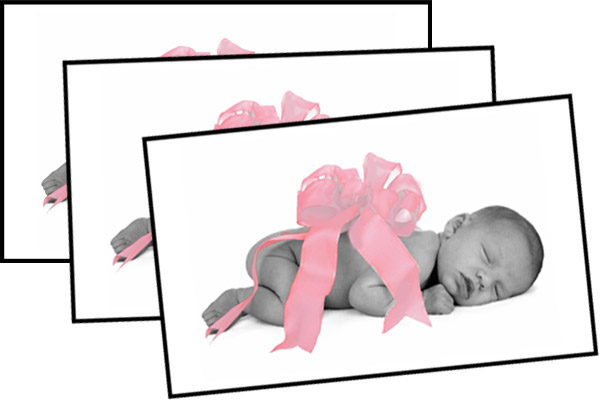 Spreading the happy news
When your little one arrives, no parent can wait to spread the news! From the simple to the creative, from the custom-printed to the do-it-yourself, you have a lot of choices available to you.
Most commonly, birth announcements are sent via the local postal carrier. Such announcements, sent by the baby's parents, are usually in the form of a card with the baby's birth statistics. A picture of the baby can be included as an added treat. You may choose to have these imprinted with your baby's stats. Adorable blank, flat cards can be purchased and printed on your computer printer, using various fonts and ink colors. There are also some not-so-common ways parents can spread the happy news amongst family and friends.
An announcement from an older child presenting his new sibling is a nice way to include a big brother or sister in the festivities. On a similar note, Kendeyl Johansen from Park City, Utah, took a picture of her toddler son with her newborn twins. The picture was printed on a greeting card with the caption "Help, I'm surrounded!" Vital statistics of the twins were included.
Is your baby due to be born around the holidays? If you distribute a holiday newsletter to your family and friends, use that time to announce the main event of the year. If baby happens to arrive right after Christmas or the end of Hannukah, send out a New Year's newsletter instead. Everyone will understand the lateness, as you were a little busy earlier in the holiday season.
Take your career to heart -- or your mate's -- and put on your creative hat! If there's an attorney in the family, compose a legal brief as your announcement. A chef can dictate the ingredients of a perfect baby on a recipe card-type announcement. If school is in session, your baby's "grades" are sure to be an A+ on his report card.
High tech announcements
With today's easy access to printers, scanners, digital cameras, computers and telecommunication equipment, the opportunities for creativity are endless. The phone will undoubtedly start ringing off the hook before you're settled in with your new baby. Change your voicemail or answering machine announcement to include the answers to the questions your callers are likely to ask about the baby, and include a couple of your baby's gurgles. (You can return calls when it's convenient.)


You might also want to make your own computerized flyer, which can include a digital, copied or scanned picture of the baby. The flyer can double as an envelope if you wish. Just fold it in thirds, secure the bottom according to postal regulations, address, stamp and mail. This is an inexpensive way to produce an original announcement.
Build a home page on the Internet, which you can update with pictures and milestones as often as baby's schedule will allow. Include your baby's birth story as well.
Picture perfect
A picture of a bare baby lying on his tummy can make a beautiful announcement. Tie a ribbon around his waist. Use a pipe cleaner to elevate a tag saying "from God," "made in heaven," "sent by an angel" or your own sweet sentiment. Don't forget to include birth statistics on the back.
Black and white film has become popular again. Lay baby on his back with a thick big bow tied around his waist. The bow can conveniently cover baby's privates. Use black and white film and snap a picture. After the picture is developed, color the ribbon pink or blue with a permanent marker. Next, copy the picture on stock (card-type) paper with a color copier designed to copy pictures. The end result is a black and white picture of your baby with an attention-gathering pink or blue ribbon. Add birth info and proudly distribute.
Baby blossom
When Storm Weaver's son was born many years ago, she wanted to do something special. "I made a hundred little paper cups with plant seeds in them. I labeled them with what they were and put in little pouches of starter plant soil." Included with each cup was a card with a poem written by Storm including such words as "blossom" and "flourish", ending with her son's birth statistics.
Whether you announce your baby's birth traditionally, creatively or technically, it will be a unique one! Whatever you decide, don't forget to save an announcement for baby's scrapbook -- and hold a spot in the book for his first birthday invitation, too.