Some Fun And Seasonal Names For Thanksgiving Babies
When it comes to baby naming, holidays and seasons are are very popular sources of inspiration. Here are some fun and seasonal name ideas for Thanksgiving babies -- inspired by the Pilgrims, the ancient Greeks... and even your very own family.
Nancy J Price & Betsy Bailey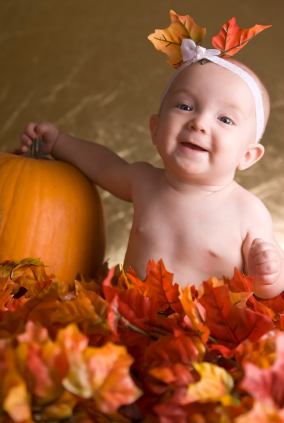 If you want to choose a first name for your baby to celebrate Thanksgiving, you're not alone. In fact, the holidays and seasons are very popular sources of inspiration. There's a virtual cornucopia of fall names out there, if you know where to look.
So where to begin? You might want to consider what really were some of this nation's first names: Those of the Pilgrims who celebrated the First Thanksgiving in 1621.
"A few of those names -- Joseph, Christopher and Sarah -- are still on our country's top 10 list almost 400 years later," says Nancy J Price, co-founder and editor of Pregnancy & Baby. "Other names from that era are less common now, but they still have a traditional flair." The site's top five Mayflower picks for boys are Bartholomew, Elias, Jasper, Gilbert and Myles. For girls, they recommend Alice, Constance, Eleanor, Priscilla and Susanna.
Not every name back then was what parents would consider "typical" by today's standards. For example, three girls on the ship were descriptively named Remember, Desire and Humility. There were also three boys with similarly expressive monikers, including a lad called Resolved, and two brothers named Love and Wrestling.
Based on reader feedback, we have learned that many parents like to put last things -- or at least last names -- first. "A few of the Pilgrim surnames are exactly the kind of given names that really appeal to a lot of parents today, especially for boys," says Betsy Gartrell-Judd, co-founder and editor. Our top five choices from the passenger list are
Allerton, Chilton, Hopkins, Latham
and
Tilley.
When celebrating this season, the Native Americans thought to be at the First Thanksgiving can't be forgotten. Among them were Massasoit, Quadequina, Squanto, Hobbamock and Tokamahamon.
If you want to look beyond our shores, why not consider names that mean "thankful"? For girls, there's Jendayi (Egyptian) and Shakira (African). If baby's a boy, you might think about Jaden (Old English) or Zikomo (African). "Harvest" is also another seasonally relevant term, and the lovely Demetria (which is Demi Moore's real first name) is known as the Greek goddess of harvest. Not quite right? Well, that same goddess is Ceres to the Romans, Mimis to the Turks, and Annona in Latin. Along those same lines, Charmaine is French for "bountiful orchard." Finally, there's Autumn. "It's pretty, it's seasonal, and most people know how to spell it," says Gartrell-Judd.
If these names are just not "it" for your little pumpkin, the most perfect name this season may be the sweetest of all. "Just think of someone in your life, past or present, who you're especially grateful for," says Price. "Celebrate Thanksgiving by naming your baby in honor of someone special."
Still need help finding the perfect baby name? Check out BabyNameCentral.com or BabyHold.com for more tips and ideas.