Countdown Checklist
Leaving your baby with a babysitter this New Year's Eve? Make sure you leave her with the information on our New Year's Eve babysitter checklist.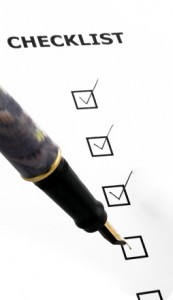 Do you have fun New Year's Eve -- sans baby -- plans? Do you have a New Year's Eve babysitter checklist? If not, take a few minutes to put one together. Last year, my husband and I went out for New Year's Eve (we walked to a local restaurant and rang in the New Year at a local venue -- nothing too exciting!) for the first time since moving to our new city. We had lived here for several months, but it was the first time we left our one- and two-year-olds with anyone other than family or the sitter we'd always had in our previous state. I'm not an extremely nervous or controlling mom, but something about New Year's Eve made me a little more -- um, what's the word? -- cautious. It was probably silly because being at home was the safest place for my kids! Still, I covered my bases. If you're leaving your baby with a babysitter this New Year's Eve, be sure to also leave the following information for her:
The address and phone number of the place you'll be spending the evening. If you're going to be at more than once location, leave the info for each along with the approximate times you'll be there. Sure, everyone has a cell phone, but you never know whether service will be spotty or you'll be able to hear it ring.
A neighbor's name and phone number. In case of an emergency, your sitter might need to call someone who can arrive at your home quickly.
Your own home address and phone number. Don't overlook the obvious. What if your sitter had to call 9-1-1 and did so from her cell phone? The service won't be able to identify your address if the call is not placed from a land line and if your sitter doesn't know your address (or can't recall it in a panic), that's wasted time.
The cross streets nearest your home. For the same reason as listed above.
Your baby's full name, birth date and weight. In the event of an emergency, exact age and weight can be very important.
While it's extremely unlikely your sitter will need any of this information, it's better to be safe than sorry. You've selected your sitter carefully and you've left her with the important information. Now, relax and have a good time. You deserve a fun New Year's Eve, Mamas!