Pack Your Hospital Bag
"When should I have my hospital bag packed?" It's a question nearly every expectant mother thinks about or asks aloud at some point nearing the end of her pregnancy. The easy answer offered by most online sites is by the end of the 36th week.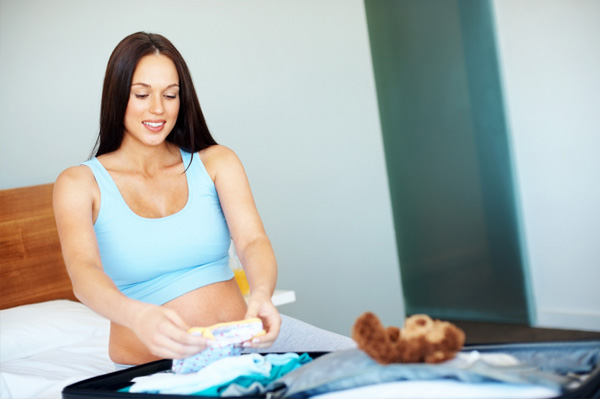 Technically, 37 weeks marks a "full term pregnancy," though your little bun could stay in that oven until well over 40 weeks! Try to keep the ants out of your pants by perfecting your packed bag while you wait, wait and wait some more. Personally, I packed my bag a little earlier than the suggested 36 weeks as I have very complicated pregnancies. Thankfully my babies all came out healthy in the 38th week, but I was prepared for them when I started having preterm labor at 32 weeks (with each!). You really can't pack "too soon" if you have duplicates of certain things -- shampoo, soap, hair brush -- as long as you realize that what you wear to the hospital will be the approximate size of your return home outfit. As such, packing a maternity outfit that fits at 22 weeks won't like do you well two days after labor. Sorry, it's true. You can, however, pack too late! So take a look over this list and start making a mental checklist of what you have, what you need and what you do or don't want!
Toiletries:
Shampoo (and conditioner if you use it)! (Hospital shampoo is nasty. Sorry.)
Soap. (Ditto that nasty thing.)
Hair brush. (I forgot mine for the birth of my firstborn. My hair in photos. INSANITY.)
Makeup. (I only put a little concealer under my eyes to hide the bags from lack of sleep due to long labor. I otherwise didn't care. However, I would have been upset had I had black eyes in the hospital pictures, so bringing along my makeup bag was the right choice for me.)
Toothbrush and tooth paste!
Lip balm or chapstick. (All that breathing you learned in your labor and delivery class? Dries out your lips. Pack some!)
Sanitary napkins. (And not the teensy flat ones either. Good news is that the hospital provides you with some of the crazy-heavy-flow ones you'll need for awhile, but they're big and bulky and uncomfortable. Use them, but have a back up set just in case you simply cannot.)
Clothing:
Slippers/socks. (Hospital socks are weird. You'll want your own. And your feet will get cold.)
Your own pajamas. (Not for actually laboring. The day or so after. Go with a nightgown. Bonus points for a nursing gown.)
Underwear!
Bathrobe. (To cover up the jammies when 5,000 people visit you!)
Nursing bra, pads.
Going home outfit. (Trust me, you're not going to fit into your pre-pregnancy jeans. Go with soft yoga pants -- that you know fit around your pregnant belly -- and a loose top.)
Stuff for Laboring:
Mix CD/music/radio/iPod/speakers. (Find out ahead of time if your hospital has radios in room. Otherwise, prepare to bring something to make the music go!)
Pillows -- for you or your partner. (Put a brightly colored pillow case on to distinguish them from hospital pillows.)
Your birth plan!
Any birthing/nursing/parenting books you think you'll read while laboring or after. (I giggle, but go ahead.)
Paper/pen. (Keep track of your laboring timeline -- 5:51, water broke, 5:53, contraction, 5:55, baby arrived! (If only.) Also good for keeping track of who brings what to the hospital -- grandma, flowers; neighbor, teddy bear; best friend, outfit for baby.)
Telephone numbers (and email addresses) of people to call (or email) after the baby is born.
Focal point.
Stuff for Baby:
Going home clothes. (You may also want to use these for hospital pictures. It's up to you.)
A few different sleepers if you feel so inclined. (My babies hung out in little white t-shirts, diapers and the burrito wrap while in the hospital. Easier for checkups and what not that way.)
Baby blanket. (Tip: Coordinate the blanket you bring with the outfit for photos and you have a cute background!)
CAR SEAT. (Most hospitals won't let you leave without an infant car seat. Talk to someone at the hospital if you do not have one.)
Hat. (Keep baby's head warm, especially if it's cold, cold, cold.)
Diaper bag. (The hospital will provide you with diapers and other baby care items while in the hospital, and likely a small diaper bag. But you'll need something to lug everything home in, especially anything that other people bring to the hospital!)
And lastly, please do not forget your camera(s). You'll definitely want a still camera for baby's first photographs. But feel free to also bring a video camera to capture all those other firsts. When did you pack your hospital bag? What did you put in it?