Why You Should Never Shake A Baby - Learn About Abusive Head Trauma
Shaken baby syndrome, or "abusive head trauma" as it's now sometimes called, is a serious issue, but an issue that...
Shaken baby syndrome, or
"abusive head trauma"
as it's now sometimes called, is a serious issue, but an issue that receives very little press. As such, parents receive very little education about this serious problem. In fact, when my son was born, I don't remember the hospital, my midwife, a nurse, or anyone else giving me info about shaken baby syndrome. Since April is
National Child Abuse Prevention Month
I think we should take a look at shaken baby syndrome.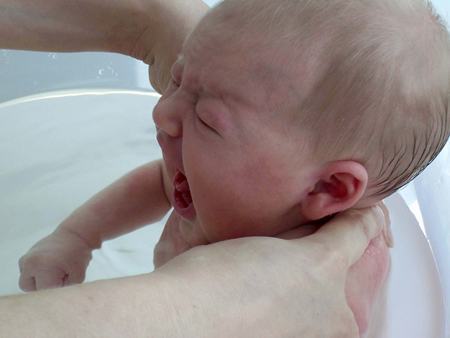 What is shaken baby syndrome?:
Shaken baby syndrome
or abusive head trauma occurs when a parent or caregiver severely or violently shakes a baby. In some cases, this form of abuse may also include hitting a baby's head. You don't even have to shake a baby very hard for the impact to be violent. Babies do not have very strong heads or necks, and even minor shaking can seriously hurt a baby.
How common is this kind of abuse?:
Abusive head injuries among babies is one of the most severe forms of child abuse. 13% to 30% of shaken babies will die and 1/2 of all shaken babies who live end up with significant brain impairments. You often hear about babysitters or daycare staff shaking babies, but these aren't typical cases. In reality, parents and their partners are responsible for 3/4 of all shaken baby cases. The average age of the typical shaken baby victim is just 5 to 9 months of age.
What sort of injuries do shaken babies end up with:
Many shaken babies die. Some babies may die right away and other babies can die a slow and painful death after being shook, due to internal bleeding, internal bruising and other injuries. Shaking or striking a baby's head can cause serious brain damage as well, leaving a baby who was born with all her mental facilities, mentally damaged for life. Other serious injuries associated with abusive head trauma may include blindness, eye injuries, damage to the spinal cord, and delays in normal development.
Why would anyone shake a baby?
In shaken baby syndrome cases, often baby shaking happens because a parent or caregiver is fed up with, or angry with a baby who is crying continually or being otherwise irritable. Babies cry - a lot sometimes. And this can be VERY frustrating. However, your frustration or anger doesn't make it okay to shake a baby.
What are the symptoms of shaken baby syndrome?:
In case someone else shakes your baby and you're not around, it's important to know the signs. A baby who has been shaken may be irritable or have
trouble staying awake
. The baby may have experience tremors (shakiness), vomiting, seizures, difficulty breathing and coma. If you see these signs you should take your baby to the pediatrician or an emergency room immediately. If you can't take your baby (say you don't have a car) call 911.
What should you do if you shake a baby?:
If you shake a baby, it may be considered child abuse, depending on the severity of the situation. However, the
American Academy of Pediatrics
says:
"If you or your spouse have shaken your baby in a moment of frustration—take your baby to the pediatrician or an emergency room immediately. Any brain damage that might have occurred will only get worse without treatment. Don't let embarrassment or fear keep you from getting treatment for your baby."
In some cases, a baby who has been shaken may live or die depending on you taking him to the hospital or not. Don't sit by as your child dies because you're ashamed that you shook him.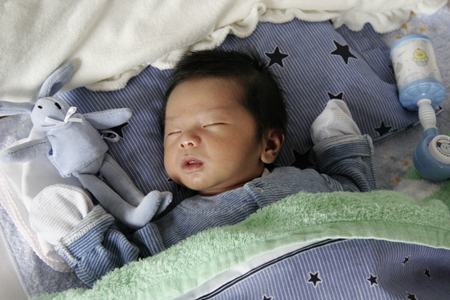 Preventing shaken baby syndrome:
If you're a parent, reading this post is half the battle. Studies show that many adults who do harm a baby by shaking, didn't know that shaking could have such a harmful affect. Research also shows that incidence of abusive head injuries decrease by 47% when
parents receive education about shaken baby syndrome
- meaning, parents who know about this issue are far less likely to shake a baby. If your baby is crying and screaming and you feel like you might lose control and hit him or shake him, try the following...
Take a deep breath and count to ten (or 20 if need be).
Try to figure out why your baby is crying... Have you changed him, fed him, etc.
Put your baby in a safe place, like his crib, bouncy seat or car seat and then leave him in a room to cry, while you take a break in another room. It really won't hurt your baby to cry alone for a while and it's much better than you losing it. Trust me, I left my infant son alone to cry it out on a few occasions when I'd totally had it, and he was just fine.
Call a friend or your mom or spouse and get some emotional support - better yet, have a friend or relative come over and hang out.
Call your baby's pediatrician. There could be an actual medical reason why your baby is crying.
If you feel
overly frustrated with your baby
on a daily basis, maybe you need to seek help.
You may be depressed
and your doctor could help. It's
100% normal to feel frustrated
with your baby
sometimes
. It's NOT normal to be frustrated with or angry with your baby
all the time
.
Learn more about dealing with a crying baby: