Help Prevent Child Abuse In Your Community
Many, many important events happen in April. We've got Earth Day, Autism Awareness and Marching for Babies to name a...
Many, many important events happen in April. We've got
Earth Day
,
Autism Awareness
and
Marching for Babies
to name a few, not to mention Easter in April this year. However, one of the most important event happening in April, in my opinion, is
National Child Abuse Prevention Month
. People don't like to discuss child abuse, but it's an issue that everyone needs to be concerned with. Each day approximately
five children die every single day
as a result of child abuse. According to
Childhelp
, of these children who die, more than three out of four are under the age of 4 years. Consider the following statistics from the U.S. Department of Health and Human Services' most recent national child maltreatment statistics:
In 2009, an estimated 702,000 counts of child abuse and/or child neglect occurred in the U.S.
An estimated 1,770 children died in 2009 alone, due to abuse or neglect.
More than 15% of abused children were physically abused.
9.5% of abused children were sexually abused.
7.6% of abused children were emotionally maltreated.
The cases above involve just ONE year and only cases that were actually reported. Findings in one
comprehensive series of reports
shows that child abuse is seriously under-reported and under-investigated in the U.S., and that often, even doctors don't report suspected child abuse. In most cases, when a child is being abused by a caregiver or parent, someone else knows about it and just doesn't say anything OR misses the signs of abuse.
Learn how to spot child abuse: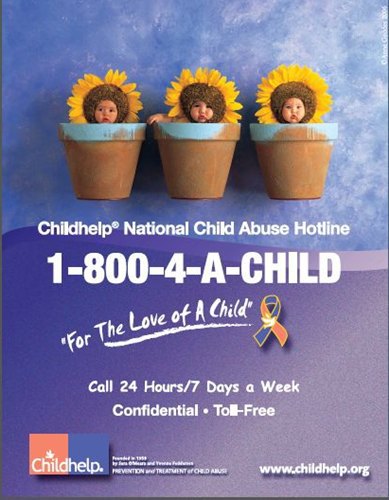 The Child Welfare Information Gateway has compiled a list of child abuse red flags to watch out for, which includes the following
common signs of child abuse
...
The Child:
Shows sudden changes in behavior or school performance
Has not received help for physical or medical problems brought to the parents' attention
Has learning problems (or difficulty concentrating) that cannot be attributed to specific physical or psychological causes
Is always watchful, as though preparing for something bad to happen
Lacks adult supervision
Is overly compliant, passive, or withdrawn
Comes to school or other activities early, stays late, and does not want to go home
The Parent:
Shows little concern for the child
Denies the existence of—or blames the child for—the child's problems in school or at home
Asks teachers or other caregivers to use harsh physical discipline if the child misbehaves
Sees the child as entirely bad, worthless, or burdensome
Demands a level of physical or academic performance the child cannot achieve
Looks primarily to the child for care, attention, and satisfaction of emotional needs
The Parent and Child:
Rarely touch or look at each other
Consider their relationship entirely negative
State that they do not like each other
How to report suspected child abuse:
If you see signs of abuse and don't report it, that does, in my opinion, make you a guilty party in the abuse of a child. If you see abuse
it only takes a moment to report it
and you may save a child's life. The Childhelp National Child Abuse Hotline runs 24 hours a day, 7 days a week, with professional crisis counselors who have access to a database of 55,000 emergency, social service, and support resources.
All calls are anonymous
. Contact Childhelp at 1.800.422.4453. You can also
contact state organizations
.