In super scary news to kick off the new year, a recent study, found that one-third of US babies are...
In super scary news to kick off the new year, a recent study, found that
one-third of US babies are obese
or at risk for obesity at the age of 9 months to 2 years. Researchers found that
babies who were obese
by the younger age, 9 months, had a much higher risk of becoming obese and also found that those were obese at 9 months had the highest risk of still being obese at 2 years. Yikes. Obese babies huh.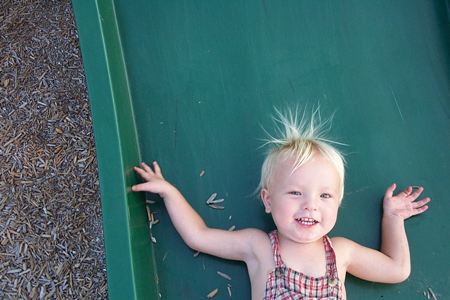 The study, published in the January-February 2011 issue of the American Journal of Health Promotion,
has some problems
. For example, these particular babies were born about a decade ago, so it's not entirely clear, based on this one study how that weight affect these kids later in life. That said, we actually do know that
we're in the middle of an obesity epidemic
and based on studies that do look at kids nowadays, it's clear that most of America is overweight. In fact, the World Health Organization estimates that in 2005 at least 20 million children under the age of 5 years were overweight globally. Researchers spout off a lot of theories, such as
working mamas equal fatter kids
and
breastfeeding equals fewer obesity risks
, but tried and true research, that's been around for decades, tells us this - food and exercise is the problem.
Be VERY aware
: Babies should never, ever be put on a diet. The researchers on this study, along with many other experts note that you should never deny the breast or the bottle while your baby is being exclusively breast or bottle fed. The problems with food start after the breast or bottle,
once babies start eating solid food
. This is when most parents mess up on food choices. Poor diet choices and lack of exercise is what leads to being overweight or obesity. In turn, the
health consequences of being overweight or obese
are many and extremely dangerous.
Your baby's health is your responsibility
, and you can help prevent childhood obesity.
For a healthy baby and later healthy child, read the following tips...