Parents And Grandparents Both Need To Follow Baby Safety Rules At Bedtime.
According to a new survey from HALO Innovations, parents and grandparents don't always see eye-to-eye when it comes to baby...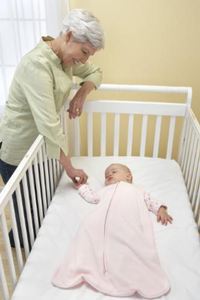 According to a new survey from
HALO Innovations
, parents and grandparents don't always see eye-to-eye when it comes to baby safe sleeping arrangements. The HALO survey found that what parents and grandparents do agree on is that Sudden Infant Death Syndrome (SIDS)
is a top concern
. That said, parents of this generation are better than grandparents at keeping babies safe. For example, the survey found that grandparents are more likely than parents to allow a baby to sleep on his side or tummy and that grandparents are more likely to place items like blankets and stuffed toys into the crib with a baby. These actions directly contradict current baby sleep safety guidelines. Studies show that
back to sleep
is always the safest way for a baby to sleep, and that placing extra items in a crib, with a sleeping baby is potentially dangerous. Both tummy sleeping and excess stuff in a crib increase a baby's risk for SIDS and accidental suffocation. Dr. Tanya Remer Altmann, a member of HALO's medical advisory board points out that, "
Keeping babies safe is parents' No. 1 priority, and the best way to help babies sleep safely is by placing them on their backs in a bare crib.
" "
Forty percent of parents with a child age 2 or younger surveyed expressed concern that their parents or in-laws may not always follow their instructions about how to safely put their baby down to sleep,
" says HALO founder Bill Schmid. "
It's imperative that all caregivers follow safe-sleep practices.
" SIDS and accidental suffocation are a leading causes of death for babies younger than 1 year old, which means you cannot worry about
hurting your own parents feelings
when it comes to how they care for your child. Your baby's safety matters more. You should speak with anyone (including your own parents) who cares for your child and make sure they're following baby sleep safety rules, such as...
Image via HALO Innovations.