Many Children Die Annually Due To Furniture Tipovers - Make Sure Your Child Is Safe.
Baby proof correctly to avoid furniture tipovers.
According to reports received by the
U.S. Consumer Product Safety Commission
(CPSC), one child dies every two weeks when a TV, furniture or an appliance falls on him. Additionally, CPSC reports that more than 16,000 children ages 5 and younger are treated in the emergency room due to tipovers.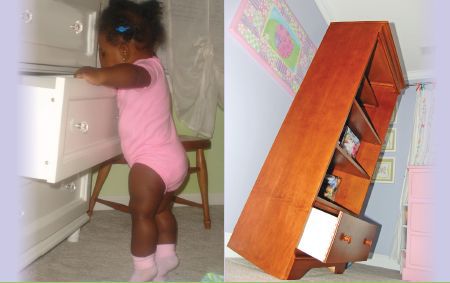 Most of these injuries occur when a little one
tries to climb onto a television stand
, shelf, bookcase, dresser, desk, chest or appliance. A tipover may also occur if a child falls against or pulls themselves up with one of the above items. This shouldn't come as a huge shock to you. Kids like to climb and they're curious. My son was a big-time climber. He'd climb shelves, people, large chairs and more. Luckily when my son was little we had everything securely attached to the wall. Mainly because we lived in a major earthquake zone, but also to protect him from tipovers. Earthquakes or not, simply the strength of your child can pull an item over. To raise awareness and combat child deaths due to tipovers, CPSC has released some easy and
must-do tasks for parents
or for people who have children in their home.
Furniture should be stable on its own. For added security, anchor chests or dressers, TV stands, bookcases, and entertainment units to the floor or attach to a wall.
Place TVs on a sturdy, low-rise base. Avoid flimsy shelves.
Push the TV as far back as possible.
Keep remote controls and other attractive items off the TV stand so kids won't be tempted to grab for them and risk knocking the TV over.
Make sure free-standing ranges and stoves are installed with anti-tip brackets.
Where to get wall brackets:
Any old hardware store will carry wall brackets - go ask and a clerk can help you out. You can also get
wall safety brackets
online at various baby-safety shops.