Most Parents Do Baby-Proof But Forget That They Should Toddler-Proof As Well As Their Little One Grows.
Just when you master baby care, surprise!: it's toddler time. Babies grow fast and it's hard to keep up. Unfortunately,...
Just when you master baby care, surprise!: it's
toddler time
. Babies grow fast and it's hard to keep up. Unfortunately, new research by the national, nonprofit Home Safety Council (HSC) reveals that the vast majority of parents have trouble with
keeping their toddler safe
. For example, the research shows that an astounding, 83% of parents admit that they have left their toddler unsupervised in the home—for a few moments, or even longer.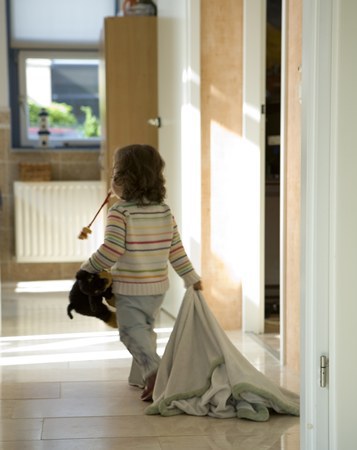 The research consisted of a parent survey and it turned out that while most parents do try to baby/toddler proof their home, very few parents have successfully kept their toddlers from getting into dangerous situations.
Why the problem?
Toddlers, in two words are crafty and fast. Keeping up with a curious toddlers isn't easy and in the survey 9 out of 10 parents noted that as soon as they turn their back their toddler gets into trouble. Toddlers really LOVE to climb, are getting very smart and they're super speedy; all of which adds up to a problem.
How to keep your growing toddler safe:
Meri-K Appy, president of the Home Safety Council says, "
Staying one step ahead of your child is the key to preventing injury. As soon as your baby starts standing up in the crib or attempting those first steps, it's time to get down on your hands and knees and take a second look at the safety of your home from your toddler's point-of-view. Inspect each room to spot the hazards that need to be fixed.
" To help parents keep their toddler safe, the Home Safety Council recommends taking a room-by-room approach to fix potential dangers
before toddlers are fully mobile
. Toddler-proofing is different and just as important as baby proofing but both are different. Just because you
baby-proofed
doesn't mean your home is safe for a toddler. Parents can test their toddler safety knowledge online and create a customized home safety checklist by visiting
My Safe Home
.
More about toddler-proofing your home:
*Source