Be Safe
Toddlers and even babies love the playground. Especially when the weather is favorable, it's a great time to be outside, active and having fun in the fresh air. That said, you should always play it safe. Remember the following safe playground tips when at your local park.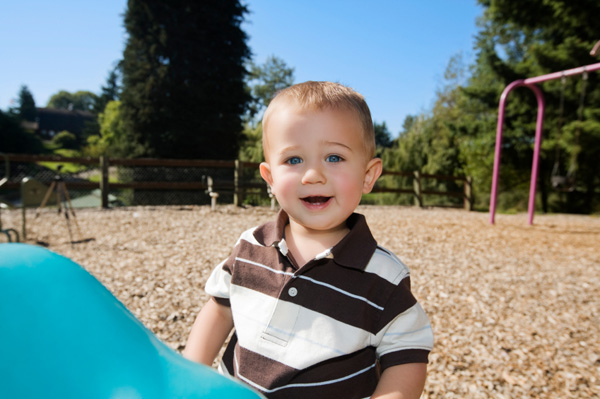 A watchful eye
No matter what your little one is doing at the playground, keep your eye on her. Children under the age of 5 years should always be fully supervised at the park. By supervised we mean by you, the parent. An older sibling should not substitute for a parent.
Baby it's hot
Right now is perfect outside weather time, but be careful about heat and sun. Safe sunscreen should be applied to the entire family about 30 minutes before you head to the park. Watch for signs of heat exhaustion and always carry water in a reusable water bottle. Learn more about summer-specific safety.
Sliding safety
Consumer Reports recommends that children of preschool age and under "should only use slides that are straight, or they may use spiral slides if they have only one turn of 360 degrees or less, since a child in this age group has limited ability to maintain balance or postural control." No sliding headfirst or on her belly, either. Lastly, watch for older kids who don't always wait to slide. Only one child at a time should be sliding.
Your lil' mountain climber
Little ones love to climb. My son would climb legs, bookshelves and old porches as a toddler if you let him. When your child sees something that can be climbed, she'll likely run for it, but make sure she's safe while climbing. Teach your little one to use both hands on ladders and to go slow. Always stay behind your child as she climbs.
Safe falls
All kids fall once in a while. To help avoid major injury choose a park that has a ground surface made of hardwood fiber or mulch, sand, pea gravel or suitable synthetic material such as rubber mats. This is much safer if your little one falls than concrete, dirt or grass.
Swinging
Your little one may enjoy a baby swing but always push slowly and stand right there as she swings. Avoid parks with rope toys if you have a very young child as ropes can cause accidental entanglement and even strangulation.
Equipment safety
Playground equipment should be in great shape and secured to the ground. Look for well-maintained sandboxes and check for splinters and rust on older playground equipment. If you see bolts and cracks, look for a safer park.
More on health
Your baby's first year in checkups, explained
Outdoor play helps encourage healthy eyesight
The top five infant ailments