To Fly Safely With Your Baby Purchase Him His Own Seat.
Last week the National Transportation Safety Board (NTSB) issued new recommendations for flying with babies and young children. Current regulations...
Last week the
National Transportation Safety Board
(NTSB) issued new recommendations for
flying with babies
and young children. Current regulations state that children under the age of two years may be held in an adult's lap and are not required to be in an appropriately secured child restraint in their own seat.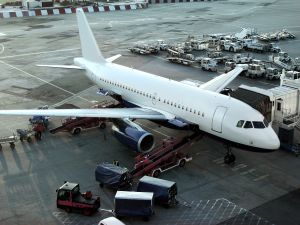 That said holding your little one on your lap is not your best or safest option.
The NTSB notes...
Adults may not be able to maintain a secure hold on a lap-held child during turbulence and survivable accidents. Preventable deaths and injuries have occurred in children under age 2 who were unrestrained.
The Federal Aviation Administration's official guidance emphasizes that the safest place for young children in turbulence or an emergency is in an approved child restraint system or device, not on an adult's lap.
For over 30 years, the NTSB has investigated aircraft accidents involving unrestrained children and has issued safety recommendations asking the FAA to require that children under age 2 be in an appropriately secured child restraint in their own seat.
In my opinion...
Little ones should have their own seat so that travel is easier and more comfortable for everyone. Even when my son was a baby we'd pay the extra so that he could have his own airplane seat. We'd bring along his infant seat, hook it in and we'd be good to go. One, it's safer but also it allows everyone nicer travel. Holding your child the entire time can be uncomfortable and doesn't allow your baby solo downtime if he needs it. Also that extra seat is hyper useful. Try holding a baby while getting out snacks, wet wipes, or doing a quick diaper change. It doesn't work great. The extra seat allows you to care for your child better.
To keep kids safe the NTSB says you should:
Purchase a ticket for all children younger than 2 years and restrain them in a child restraint system certified for use on aircraft.
Ensure that infants and small children are restrained in a child restraint appropriate to their size.
Ensure that all children are properly restrained during takeoff, landing, and turbulent conditions or when the seat belt sign is illuminated.
The popular debate:
Why pay more for a ticket when my child is so small?
The answers:
It's the safest way for a little one to travel by plane.
It's easier for parents.
Your child is a person, not just a small person. Size doesn't indicate worth. Your child is worth the price of a seat.
The heavy debate:
My infant seat is HUGE and heavy and hard to carry at the airport.
The answer:
Actually I've been there. It's super annoying to carry a child car seat through an airport. One solution is CARES, the
Child Aviation Restraint System
.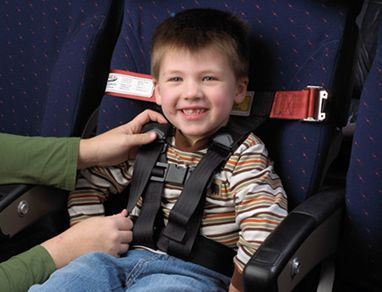 CARES
is the only harness type child aviation safety restraint ever certified for airplane travel by the Federal Aviation Administration (FAA). CARES is an elegantly designed belt and buckle device for kids 22-44 pounds that is easy to use and creates a safe airplane seat for your child without the hassle of carrying a 20 pound car seat. Best of all CARES weighs just 1 pound and fits into a 6" stuff sack! It is simple to install, adjustable to virtually any size airplane seat, and keeps your child as safe as a car seat would.