Cheap Plastic Swimming Pools Pose A Drowning Danger For Small Children - Especially Because Many Parents Forget To Empty The Pool.
In anticipation of the summer swimming season, the CPSC and the American Academy of Pediatrics have released their annual pool-safety...
In anticipation of the summer swimming season, the
CPSC
and the
American Academy of Pediatrics
have released their annual pool-safety tips - many of which
we've seen here before at P&B
. Consumer Reports has another
excellent water safety tip
just in time for swim season - "
Don't buy an inflatable pool unless you plan to empty it immediately after each use.
"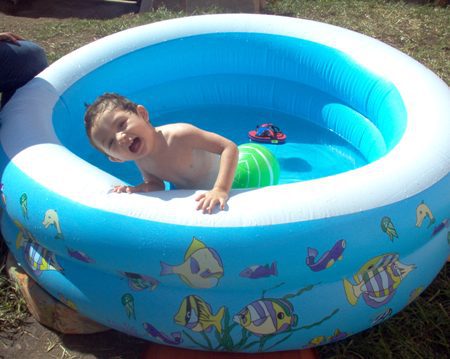 Why empty the pool?
Inflatable pools can hold thousands of gallons of water and it just takes a few inches of water to drown a child.
Inflatable pools lack a surrounding layers of protection such as a gate or fence.
Inflatable pools have soft sides, making it incredibly easy for a curious new walker or toddler to topple in.
According to
Consumer Reports
, 209 drowning incidents associated with inflatable pools were reported to the CPSC from 2001 through 2009 and the majority of drownings (94%) involved children younger than five. If you have an inflatable pool you're already putting your child at risk. Consumer Reports notes that even an inflatable pool should have a gate or other barrier around it - just in case you can't or forget to empty it. However, they also note that most parents who buy a cheap pool aren't likely to pay for a barrier that can cost many times more than the pool itself. Unless you're
100% sure
that you'll empty the pool after each use - I suggest skipping an inflatable swimming pool for your baby. There are other fun water toys for your little one that don't pose such a danger. Coming up we'll look at some safer water toys.