Young Children Are More Susceptible To UV Eye Damage So Protect Your Little One's Eyes Now With Safe Summer Sun Tips.
Did you know that May is UV awareness month? Me either. But it is, and that's cool because protecting your...
Did you know that May is
UV awareness month
? Me either. But it is, and that's cool because
protecting your baby's vision
is something you should do right from the start.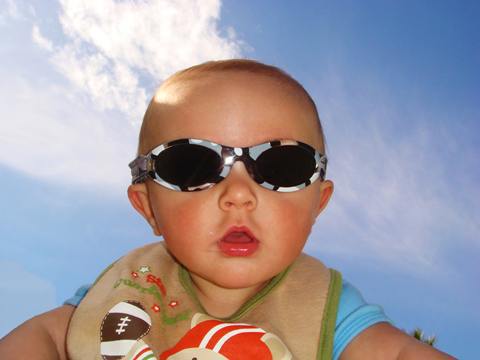 In conjunction with UV Awareness Month, Prevent Blindness America has launched a new, dedicated online resource for patients where you can learn more about how to protect your little one's eyes.
The UV Learning Center
, offers a variety of tools and information on everything from
what the heck UV even means
to UV risk factors to buying tips for sunglasses for adults and children.
Why eye protection matters:
According to the World Health Organization, up to 80% of a person's lifetime
exposure to UV
is received before the age of 18. Children are more susceptible to UV damage than adults because they tend to spend more time outside. And, according to the American Optometric Association, children are at a greater risk of UV damage because the lenses of their eyes are more transparent, which allows more short wavelength light to reach the retina. Since UV damage to the eyes is cumulative, meaning it builds over time it's very important to protect your baby's eyes now and ongoing.
How bad can UV exposure be?
UV exposure has been linked to cataracts, macular degeneration, skin cancer around the eye area, corneal sunburn (yes, sunburn on your eye!) and many other eye problems.
Prevent Blindness America
is asking parents to remember to protect their children's eyes ALL year long by doing the following: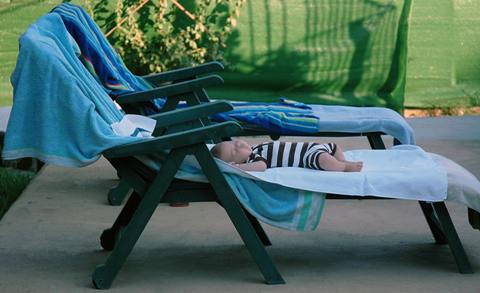 Very young babies should be in the shade during super sunny parts of the day.
Only purchase sunglasses that offer 99 to 100% UV protection.
Make sure the sunglasses fit the child's face and shield the eyes from all angles.
Choose lenses that are impact resistant and made of polycarbonate, never glass, unless prescribed by a doctor.
Make sure lenses are not scratched or damaged.
Purchase wraparound sunglasses to protect eyes as well as the delicate skin around the eyes.
Have your baby wear a hat - sunglasses only go so far and you'd be surprised how protective a hat can be.
Most importantly, don't forget to protect your own eyes. Little ones like to copy your actions. "
We need to remember to protect our eyes from UV every day of the year,
" said Hugh R. Parry, president and CEO of Prevent Blindness America. "
UV Rays reflecting off the water, sand, pavement and even snow are extremely dangerous. We can encourage our children to wear the proper eye protection by leading by example.
"
Coming up, some sunglasses that will work for babies - yup ones that stay on.