Can You Trust McNeil To Sell You Safe Children's Medication Anymore? Also, Learn If There Will There Be Refunds Issued.
Hopefully you've heard that some major baby medication recalls are in affect right now. If you missed it, make sure...
Hopefully you've heard that some major baby medication recalls are in affect right now. If you missed it, make sure you read up on this
important baby medication recall
right now! Many brands of medications are involved such as Tylenol Infants' Drops, Children's Tylenol Suspensions, Infants' Motrin Drops, Children's Zyrtec liquids in bottles, Children's Benadryl Allergy liquids and more. The FDA recommends that you stop using these products right away.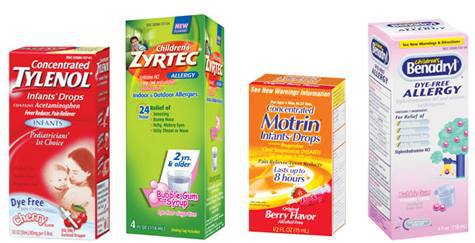 NOTE: Above is an example of SOME not all recalled products. Please read the full recall list!
You likely have one of these medications in your medicine cabinet. In fact, I did and trust me I was not thrilled about this. My son has allergies and his doctor had him on Zyrtec (daily) and once in a while he also needs Benadryl to help him sleep when his allergies get really bad. So yeah, we had medicine on the recall list (great).
In updated news:
According to the
New York Times
...
The Johnson & Johnson unit that voluntarily recalled certain lots of children's liquid Tylenol and Motrin over the weekend had numerous and wide-ranging quality control problems at the plant that made the products, according to a federal inspection report released Tuesday. That unit, McNeil Consumer Healthcare, failed to adequately investigate and correct various deficiencies in its manufacturing and drugs made at its plant in Fort Washington, Pa., according to the report (pdf), posted Tuesday afternoon on the Web site of the Food and Drug Administration.
Lovely right? Basically the issue could possibly have been corrected before a recall was necessary. Gotta love how much companies who make medications value your family's health AND you also gotta love how no one cracked down on them for the issues.
Can you get a refund?
Well, as of May 1st, the day I posted this recall news, there was almost nothing at the
McNeil product recall
site about refunds. AT ALL. I found that odd, but whatever I was just glad to hear about the recall before I gave my son another dose. Later though McNeil got a lot more info up, including some
refund info
. The company states...
McNeil is offering two options for consumers who have purchased products affected by this recall. You can receive either a refund for the average retail price of the product or a coupon for a free replacement (s) when the product becomes available again.
Um, who would want a replacement coupon? I just want my $ back. However,
another piece at the Times
notes that when folks called the company, McNeil only offered a coupon for a replacement product. Not cool. I emailed them. I kept my bottle because I figured sooner or later they'd get refund info up. I emailed my lot #, brand, all that stuff they asked for (on the 2nd) and still haven't heard back. I got a form email stating, "
Thank you for contacting us. We are currently receiving a high number of emails, and our response to you may be delayed. We will respond as quickly as possible.
" I bet they're getting a lot of emails. Geez.
Will anyone trust these medications again?
In light of this recall being maybe the fifth recall at McNeil in less than a year due to quality control issues I'm seriously wondering if they can gain consumer trust again. I know they've totally lost mine - I will never buy these specific brands again. I get it, I do. Recalls happen. Mistakes happen. But if you're going to sell my child medicine, sorry, I just don't care about mistakes happening. When it comes to babies and children you have to be better than that.
Will you buy these medications again or no?
HELPFUL LINKS: