Your baby's skin is tender, delicate and prone to problems during the cold days of winter. There are many ways...
Your baby's skin is tender, delicate and prone to problems during the
cold days of winter
. There are many ways to protect your baby's skin during the winter.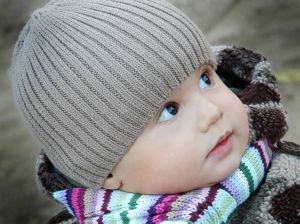 Chapped lips
- babies are super prone to chapped winter lips because of all the drool, lip licking, and munching on their own hands - ick. All that baby moisture breaks down the skin on your baby's lips.
Fight chapped lips
: Apply a super thin layer of petroleum jelly before you head outside.
Frostnip
- frostnip is better than actual frostbite, but still harsh on baby skin. Frostnip is when exposed skin turns red and tender.
Fight frostnip
:
Dress your baby for the weather
and cover all extremities with socks, mittens, and a hat. Don't stay outside for a long time when it's too cold. Sometimes a warm bath after coming inside can help too.
Dry skin
- dry skin can happen at any time of the year, but winter chills and
wind
can especially result in dry skin.
Fight dry skin:
too much water actually makes skin dry, not moisturized. Don't bath your baby everyday, and always use a mild and
natural baby soap
. Apply a nice soothing moisturizer after his bath. Also make sure you're feeding your baby often - milk and water are important as
dehydration
can even occur in winter.
Heat rash
- heat rash is not only a summer issue. People often over bundle babies in winter, then don't take the layers off soon enough after coming inside.
Fight heat rash
: dress baby in warm but breathable clothing. If he looks overly red and feels warm you can remove a layer. Oh, and as you probably know, mama skin can take a beating during the winter too. Take care and
protect your skin naturally
during the harsh winter.