The holiday season is full of baby safety hazards, but with just a little careful planning your holiday season can...
The holiday season is full of
baby safety hazards
, but with just a little careful planning your holiday season can be accident free, jolly, and fun; even if you've got a curious babe in tow. One item that most babies and small children are enamored with is the Christmas tree, a holiday norm that can be dangerous for little one.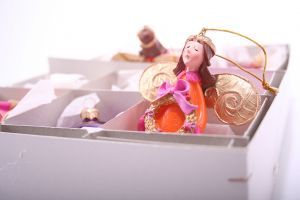 Following are some Christmas tree safety issues to be aware of...
Tipping dangers: First if all it's almost impossible to tip-proof a Christmas tree. You should try, fro example place the tree in a sturdy holder, but overall you'll be better off limiting access to the tree. You can try putting a baby gate around the tree or placing the tree in a room that has a door that can be closed.
Choking dangers: Christmas tree ornaments, hooks, pine needles, popcorn, and candy on the tree all pose choking risks to your baby. Make sure any small ornaments and candies are placed high on the tree. Since ornaments have been known to fall, you may be better off with large ornaments this year. Vacuum often to pick up falling pine needles and don't hang little ornaments that look like candy - these are way too tempting to babies.
Puncture dangers: The hooks that ornaments hang on can puncture your baby's skin. Use small bits of string instead.
Burn dangers: Christmas tree lights get super hot. Not to mention the lights plug in (another danger). Limit access to any plug-ins around the tree or use a baby proof the electric outlets. As for the hot factor, try LED holiday lights which not only save energy but burn a little cooler.
Water dangers: Most Christmas tree holders aren't wide - and that's a good thing because you need to keep your tree well watered to avoid holiday fires. The closer to the tree the holder sits the less likely your child will be able to get into the water.
Tree skirt dangers: Many people like to place a tree skirt under the tree and some of these tree skirts have long cords, strings, or ribbon that could get around a baby's neck OR your baby could try to chew on the strings and choke. Go for a simple, string-free skirt.
Also, once you have the tree up pay attention to your baby's mood and health. It's rare, but holiday trees can pose an
allergen risk
for some babies.