Today a review of the Belli Pregnancy Pampering Collection gift set - a perfect gift for expecting mamas. Inside the pampering...
Today a review of the Belli
Pregnancy Pampering Collection
gift set - a perfect gift for expecting mamas.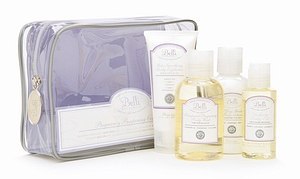 Inside the pampering collection set: Pampered Pregnancy Body Wash 4 oz, All Day Moisture Body Lotion 4 oz., Elasticity Belly Oil 2 oz. and Skin Smoothing Body Exfolaitor.
Cost: The gift set is $38.99 and comes with the four products above packed nicely in a little gift box.
Use: This set is meant to be an ultimate pregnancy treat. During the nine months of pregnancy, a woman's body experiences numerous changes - internally and externally - the ever-expanding tummy, lower back pain, morning sickness, dry skin, and more. On top of that with everything going on it can be hard for women to find papering time during pregnancy. The Pregnancy Pampering Collection aims to make papering yourself much easier during pregnancy.
What I think
: I tried all the products in the set and had a preggers pal and another pal take a test run too. Here's what we liked and didn't about each of the products.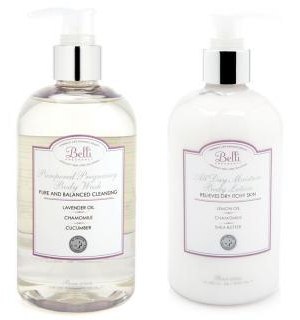 Pampered Pregnancy Body Wash
: The wash is a mix of green tea and cucumber, and the relaxing aromatherapy of lavender and chamomile lathered up perfectly in the shower - one of my pals used it as bubble bath and liked that too. The scent is subtle, not overpowering lavender and none of us experienced any skin irritation.We couldn't find any cons but I thought the scent could have been stronger - but even during pregnancy I LOVED strong scents, most women will like this body wash as is.
All Day Moisture Body Lotion
: The lotion features essential oil of lemon which really perks you up in the mornign when you're sleepy. Lemon is also known to calm upset tummies so this is perfect for morning sickness days. It additionally has Chamomile to soften and refresh your skin. The lotion overall was everyone's least favorite product in the kit. No one hated it exactly, but we all thought the moisture could last longer. You know how you only want to apply lotion once - well, this we felt had to be applied more often. It wasn't bad, just not long lasting.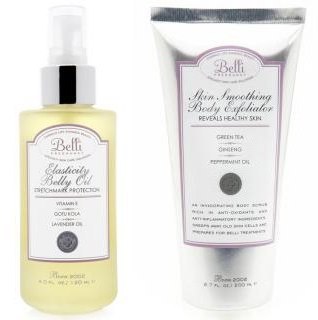 Elasticity Belly Oil
: The oil was great. It's the sort of body oil that seeps right into your skin without leaving greasy marks all over the place (counter, clothing, etc.). It smells nicely of lavender and contains sweet almond oil, Gotu Kola extract, Vitamin E and Collagen Hydrolysates - all of which have been shown to decrease the risk of stretchmarks by 39% compared to placebo treatment. Everyone thought this was an excellent oil treat and my preggers pal hasn't had stretchmarks yet (she used the most) - although that could just mean
great genes
.
Skin Smoothing Body Exfolaitor
: This was hands down the favorite product of the bunch. This skin exfoliator is rich in anti-oxidants and anti-inflammatory ingredients featuring green tea, ginseng and peppermint oil. You can swirl this on your skin to sweep away old skin cells and to smooth and prepare skin for other Belli treatment products. Not only did this scrub smell amazing, but it was the perfect texture - not too harsh for a pregnant mama's changing skin, but scrubby enough to get the job done. The peppermint scent was light and refreshing, not too minty. We all agreed that we'd use this preggers or not.
Overall
: Belli has many eco-perks and safety perks for pregnant mamas. They test all products extensively and screen all
ingredients
to help guard against chemicals that are linked to birth defects. The company overall has many cool perks - read about all
Belli company safety
.
What the team suggests
: The
Elasticity Belly Oil
and
Skin Smoothing Body Exfolaitor
were the best of the bunch but my testers and me think that overall this is an excellent safe pampering kit for mamas-to-be. If you like a light lotion this is a totally perfect kit as is. If you like a richer lotion, we suggest skipping the kit and buying larger sizes of the other three products separately. Read more about the
Belli company
or buy the
Pregnancy Pampering Collection
gift set for yourself or a pal.