Statistically, if your child is in child care there's a good chance he'll be sick more than a child who...
Statistically, if your child is in
child care
there's a good chance
he'll be sick more
than a child who is cared for by a stay-at-home-parent at his own house. There are lots of kids in child care plus staff so your child will be exposed to many more illnesses then he would be at home. It's not entirely bad because one, this does
build up kids immune systems
, and two, eventually there's a slow down. Once your child is in day care a while you should notice a drop off in the amount of illnesses your little one picks up. That said, some parents have no choice, they have to have their baby in child care. Secondly no one wants a sick baby all the time so here are some tips that may help you keep your tot healthier, even if he's in day care.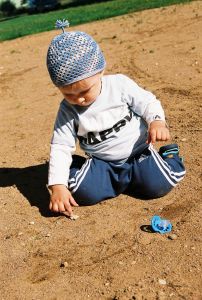 WHAT YOU CAN DO AT THE DAY CARE CENTER:
The
National Association for the Education of Young Children
(NAEYC) says that you should check out a day care setting and make sure the following policies are followed:
The program promotes nutrition and health of children and staff and has clear goals in place meant to protect children and staff from illness and injury.
The program has a sick child policy in place so that when kids are sick and contagious they're less likely to come to the center and infect other kids and staff.
Staff have training in pediatric first aid and infant and child cpr.
Infants are placed on their backs to sleep.
The program has policies regarding regular hand washing - for both kids and staff.
The program routinely cleans and sanitizes all surfaces and toys at the center.
Snacks and meals are nutritious, and food is prepared and stored safely.
WHAT YOU CAN DO AT HOME:
If you have to have your child in day care, there are some things you can do at home that can help keep him healthy...
Is your baby in day care? Is he sick more often?