With the cold weather here, and even colder weather to come, you're probably thinking it's time to buy your baby...
With the cold weather here, and even colder weather to come, you're probably thinking it's time to buy your baby a winter coat or snowsuit. But which one should you get?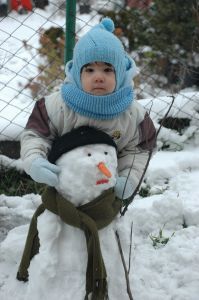 First of all, unless you live in extreme winter weather areas, it's unlikely that your baby or toddler would need both a warm winter coat and a snowsuit. Here's how to decide what kind of baby outerwear to purchase:
The best thing about a winter coat vs. a snowsuit is that the coat will take your baby through the autumn season to spring.
Don't spend tons of money, no matter what you buy. Look at thrift stores or baby consignment shops for good winter coat and snowsuit deals. Your baby will only be wearing this for this winter, because his growth is going to be extreme over the first few years. It's silly to spend a lot on something your baby will only wear for a few months. Also, it's smart to buy one-half to one size bigger because your baby may even outgrow his coat within one winter.
Snowsuits are ONLY for extended wear. Meaning, if your family loves to play all day in the snow, or head to the slopes, a snowsuit is in order, because it will provide full body warmth and coverage. You don't want water leaking in, because that's unhealthy and uncomfortable for your baby. If you don't spend tons of time in the snow, a winter coat will suffice. For normal wear, a snowsuit is obnoxious. It'll make changing your baby difficult, and it's likely too warm for your basic half hour outdoor walk.
Look for warmth in winter coats, but also look for limited bulk. Some baby coats are so darn thick that your baby will experience restricted movement - can you say cranky baby? Also, if you have a walking babe, he's not going to do well in a coat that weighs him down heavily.
If you buy a bulky coat, try to find one with a removable shell, or layer, so you can adjust it when it's warmer.
You can skip heavy winter gear altogether if it's not too chilly where you live. Babies only need one more additional layer than adults to stay toasty. Since you don't want your little one to overheat, consider dressing your baby in two clothing layers, and then a normal winter coat or fleece baby jacket.
Don't forget a good winter hat, mittens, and snow or rain boots. These will all help protect your baby from the cold and keep him happy and warm.
*SAFETY NOTE
: Winter wear and infant car seats do not go together. Your baby will not fit properly in his car seat while wearing a heavy winter coat or snowsuit. Take his coat off before you place him in his seat. If it's chilly in your car, you can fold a warm baby blanket over your baby's lower half, but never cover his face or place the blanket under the restraints.