If your little one is getting her first tooth (or teeth), she may be cranky and upset. Teeth, even tiny...
If your little one is
getting her first tooth
(or teeth), she may be cranky and upset. Teeth, even tiny teeth, coming through your baby's gums can hurt, so it's no wonder she's upset.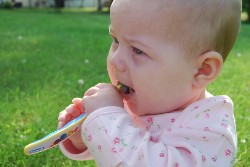 How you can help your baby deal with teething pain: 
A cold teething ring, chilled wet baby washcloth, or frozen bagel to chew on can all ease teething pain. One note; if you use a frozen bagel or baby cookie, make sure you stay with your baby at all times. Once the bagel thaws, your little one could manage to gnaw chunks off and choke. Keep her entertained. Get your little one's mind off the pain. Take her somewhere new - like the zoo or a music class. Read her a great colorful baby board book, or just head out for some exploring at the park. Make sure she's getting enough rest. A baby who is in pain will only be more upset if she's not sleeping well. If she can't sleep well due to pain it might be time to try some medical treatments.
Medicinal treatments
: Before attempting to give your baby medicine (natural or conventional) talk to your baby's pediatrician about your options which will usually include things like...
Homeopathic teething tablets: Note that most contain small amounts of sugar, so wiping your baby's gums is important.
Baby Advil, Motrin, or Tylenol: This may be the best way to help your baby get some rest if teething pain is keeping her up. Save this sort of medicine for when the pain is halting your baby's regular activity, because you never want to give too much over-the-counter medicine to your baby.
Teething gel: I tried something like Baby Orajel with my son when he was teething, and it didn't seem to help, but your baby could be a different story. Keep in mind that teething gels cause lots of extra drooling, so be prepared with a cloth, or your baby's chin may become irritated from excessive wetness.
NEVER: 
Rub your baby's gums with alcohol. This is an old time remedy, it's true, but back when this was common, we had no idea how bad alcohol was. Alcohol in any form is never safe for your baby.