With summer coming up, we're going to be looking at some issues like sunscreen, bugs, and heat exposure, but I...
With summer coming up, we're going to be looking at some issues like sunscreen, bugs, and heat exposure, but I thought we'd kick off with some water safety know-how.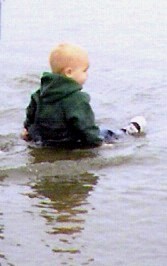 Water accidents happen more than you might think with little babies, because people forget that a baby can not only drown very quickly (in under a minute) - say you go to answer the phone, but can also drown in mere inches of water. The
Home Safety Council
notes that water accidents are more likely to occur in summer then at other times of the year.
Water safety tips:
Never leave your little ones alone in, or even near water. This means that the bathtub, a bucket of water, a running hose, a kiddie pool (with one inch of water), a large pool, lake, river, or ocean are all hazards. If your baby is near water, then you need to be within inches of him.
Get a cell or cordless phone: This enables you to carry your phone with you, so you don't have to leave your baby alone. If the doorbell rings, don't bother answering, or take your baby with you.
A baby or small child drowning is often completely silent. An adult drowning might splash around; but a baby may not. Don't rely on your ears to protect your baby.
If you have a pool, you need to install a gate around the perimeter.
At the pool or lake, have safety equipment on hand - a life jacket, a Coast Guard approved safety ring, a 12 ft pole for in case a child falls in, and a pool alarm (although, don't rely on a pool alarm to watch your baby).
Take infant and child cpr - if your baby does fall in and stops breathing, cpr will teach you how to help save him.
Little ones don't swim: Even if they can swim, even if they've had lessons, you still can't leave them alone near water. Not one baby swim program is fail proof.
Kids are fast and brave
. One last note about water safety.
Kids are brave
. When Cedar was tiny, under a year, we moved to a little house on the beach. We'd go walking near the ocean all the time. Once Cedar learned to walk, he was utterly brave, he'd take off running and literally jump into the ocean. (Yup, that's him in the picture above). My best friend's baby tries to jump in the lake, whenever she's next to one. Babies are super brave, and to them, water looks like a good time, make sure you pay total attention.