My best friend Sara told me I should write about the Baby Safe Feeder, a product she recently got for...
My best friend Sara told me I should write about the
Baby Safe Feeder
, a product she recently got for her baby girl Bella.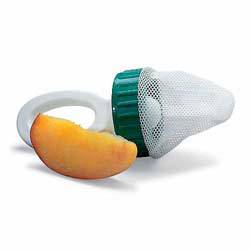 It's actually a great idea Sara had to post about the Baby Safe Feeder because it really is a nice product. The one shown to the side is from
One Step Ahead
-- one of my favorite online baby safety shops. Sara picked up Bella's at Target I believe. I never had one of these when Cedar was small but Bella loves it. I've seen her in action with this handy tool and believe me the girl goes to town. Bella likes it so much Sara bought a few extra.
How it works is simple.
You cut up fresh veggies, fruits, and even meat into sizable chunks, insert the food into the mesh area (which locks safely shut -- I could not hardly get it open) and give it to your baby. This is a great way to give your baby fresh foods without worry of choking. Sara says that Bella likes softer foods best; like ripe bananas and nectarines vs. the harder stuff like pears for instance. She noted that the softer foods tend to be easier for he babe to suck through the mesh. It also makes the perfect helper for soothing soreness during teething. You can pop an ice cube or super cold food into the pouch and let your baby rub it on her gums. Additionally it allows your baby to learn more independent eating skills. The one shown above from One Step Ahead is dishwasher safe.
The downsides: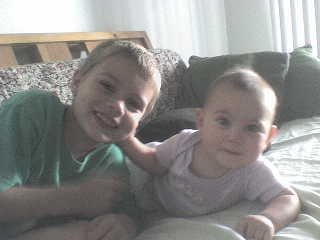 MESSY! But in retrospect most stuff babies do is messy; at least with this mess they're getting some yummy nutrition at the same time. Sara also says that they're hard to clean by hand. However, the benefits outweigh the negatives on this product making it a mama recommended product you must have.
Are you a mama in the know like Sara?
Got a product other mamas won't be able to live without? Know one mamas should avoid like the plague? Let me know about it. You can leave a comment or email me at jenniferchait (at) lycos.com and I'll try to feature it here at Pregnancy & Baby. Remember mama word of mouth is the best shopping tool!
Photo above:
Baby Bella and my son Cedar (it's fuzzy -- but so cute I could not resist) this is right before Sara gave Bella the
Baby Safe Feeder
for the first time. Bella was much less tidy afterwards.